We've been in Lincoln for the past couple of days visiting friends. We've spent most of this time playing board games that are way above Calvin's current abilities. While we do this he watches an excessive amount of videos or plays with Legos. However, I've been trying to make sure he has at least one active thing to do each day.
Yesterday I took Calvin to Herbert Park which is relatively near our friends' house. I forgot my phone to take pictures. However, the visit didn't last as long as I was expecting. The park has a wonderful old-fashioned merry-go-round. Anya and I pushed Calvin on it for a pretty long time. Then, he went over to the swings. I gave him one big push on the swing and Calvin regurgitated supper. So, we decided that was enough park for the day.
Today, Jaeger and I took Calvin back to the park, before supper, and this time I remembered my phone. This park is hidden away, Anya didn't even realize it was there before I found it on the city's list of parks with playgrounds. It wasn't clear where the park entrace was so the first time I went there I went south on 81st and turned left on Trail Ridge Rd. I found a place to park but it required hiking through a field to get down to the playground. This time I turned right and was able to park close to the playground on Apache Trail.
Calvin remembered the merry-go-round fondly from our last visit and immediately headed to it. I did agree to push him on the merry-go-round again but limited it to shorter pushes with more breaks in between.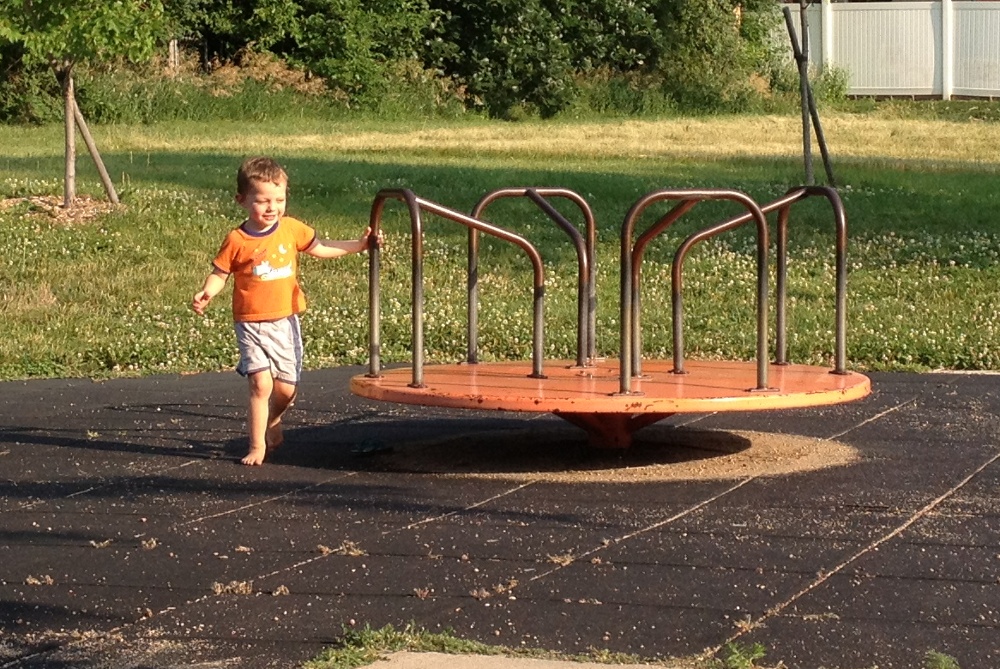 Calvin briefly played with the spring rider but didn't find it nearly as novel as the merry-go-round.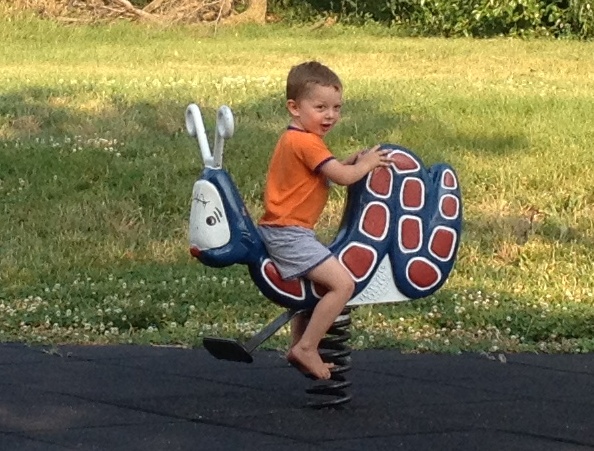 The playground also had some traditional playground equipment that is technically rated for ages 5-12. It had both a curved slide and a straight one. Calvin pretended the equipment was a ship and slid down the slide to get to a life raft, which was a rubber square.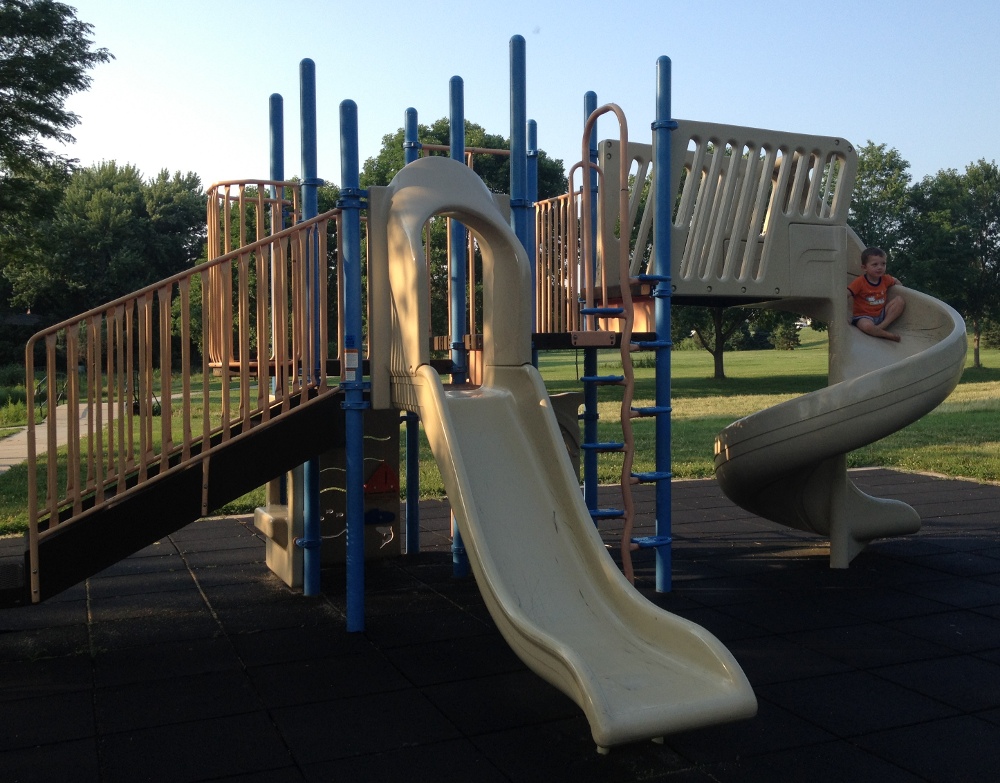 The park has a digger but it's a little too big for Calvin and also isn't in top condition (though still workable).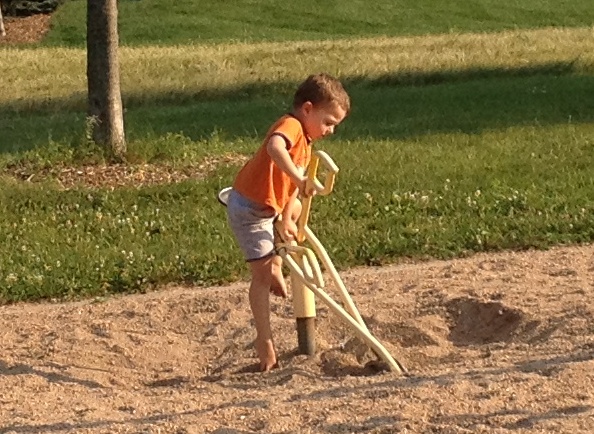 Jaeger pushed Calvin a bit on the swings without any unfortunate incidences this time.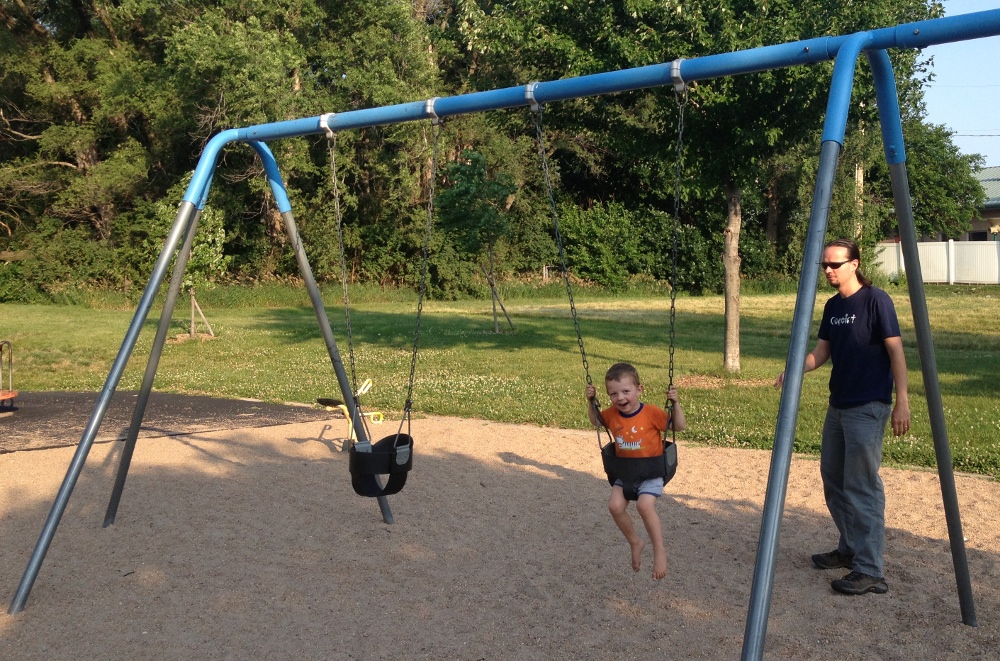 All-in-all, it's a nice little park. We'll probably visit it again next time we're in Lincoln.
Summary:
Features
Swings, bucket swings, merry-go-round, digger, age 5-12 playground equipment, slide, circular slide, 2 spring riders
Surface Material
Rubber for most of the area with a sand/pea gravel combo for the swing and digger area
Restrooms
Yes! There's a porta potty across the bridge next to the park entrance
Water fountain
Yes, next to the porta potty
Shade
There are a several mature trees that offer shade for the benches, not as much shade for the playground equipment
Picnic area
Several picnic tables including a covered shelter on the other side of the bridge
Pros

Merry-go-round! (hard to find these days)
Bathrooms and water fountain

Cons

Playground equipment is not too old but is showing signs of very minor wear
It's a little hard to find the right place to park on the first visit

View Random Parks and Playgrounds in a larger map