A couple of weeks ago Jaeger and I took the kids to Carkeek Park. From a playground perspective, the highlight of the park is definitely the Salmon slide.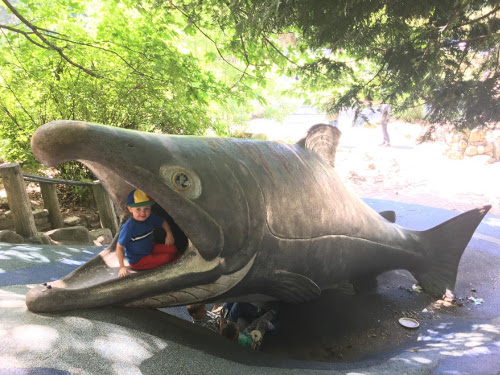 Jaeger has been talking about the Salmon slide at Carkeek Park every since he saw it on a walk. However, the kids and I haven't made it there till now. It's in a wooded section so it's nice and shaded on hot days. An interpretive sign says the the Salmon slide, and surrounding other features, "represents the the interconnectedness of the lowland forest watershed environment that is home to many creatures in the Puget Sound." In addition to the Salmon slide, it also has a pretend tidepools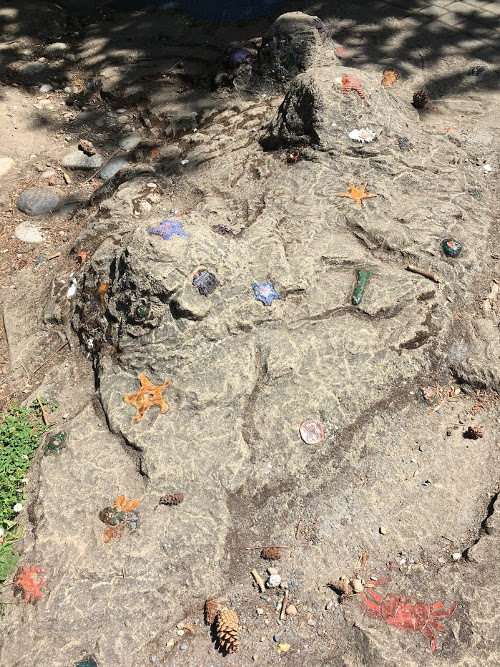 as well as caves.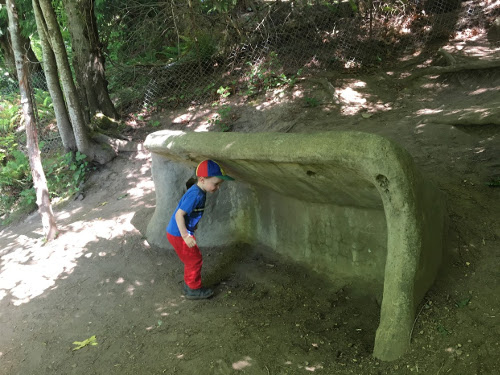 There is also traditional playground equipment. It's not as unique as the Salmon Slide but the kids still enjoyed climbing around on it.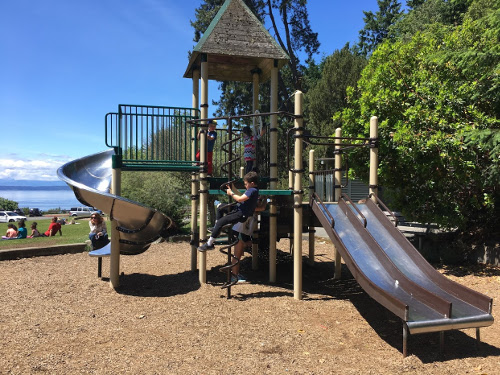 Both of our kids loved the large teeter-totter.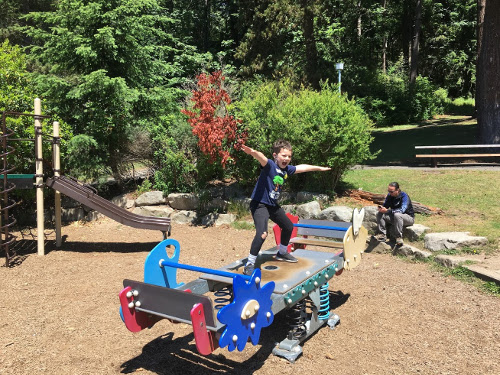 On the west side of the park there is a piano-inspired crosswalk that then leads to a pedestrian bridge over the railroad tracks. The bridge is a great spot to watch for trains.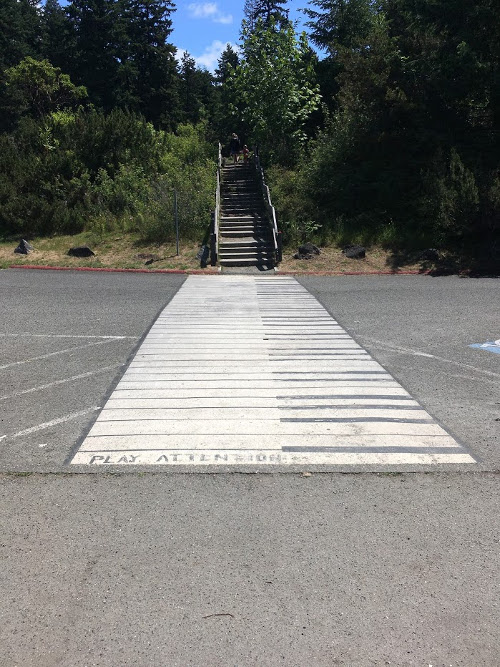 From there, families can walk down to the beach.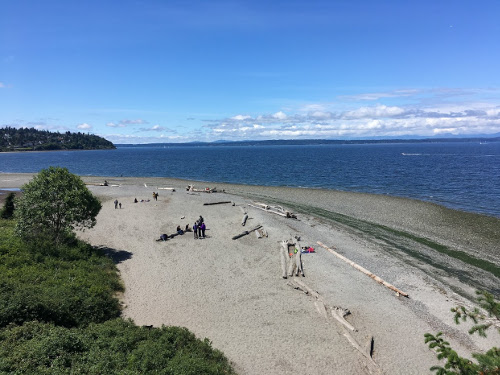 After playing on the beach for a bit we ended the day by taking a walk on the paths to get to Piper's Orchard.
While this park doesn't have the largest playground equipment around, it has so many other things that it's easy to spend the whole day entertaining the kids.
Summary:
Features
5-12 playground equipment, large teeter-totter (seats 4), double slide, corkscrew climber, spiral slide, steering wheel, chain net ladder, spring rider, concrete tidepools, concrete caves, concrete Salmon slide, swings, wooded paths
Surface Material
Wood chips (traditional playground), poured rubber and dirt (nature playground)
Restrooms
Yes
Water fountain
Yes
Shade
The nature themed playground is shaded from the trees. The traditional playground doesn't have much shade.
Picnic area
Yes, lots of picnic tables close to traditional playground structure.
Parking
Several parking lots. However, I suspect parking can be hard to find on nice days.
Coffee
None.
Pros

Unique playground.
Lots of additional things nearby: grassy field, watching trains, beach, orchard, paths.

Cons

Really busy on nice days.

View Random Parks and Playgrounds in a larger map