For Memorial Weekend Jaeger went to run the Bolder Boulder in Colorado so I decided it was another good chance to visit Grandma in Portland. We went down Saturday and checked in to the hotel. When booking, I made sure to get one with a pool so after checking in I let the kids play in the pool for a bit. Then we went to Grandma's house for supper. On Sunday, the kids had more pool time before we met Grandma and my Aunt for lunch. After lunch I looked around for a nearby park because I thought the kids needed outside time and it was a beautiful day. This led us to Luuwit View Park.
The park is pretty impressive. It's wide open and spread out. On the west side of the park there is a sculpture mound that culminates in the "Bird" sculpture by Mauricio Robalino.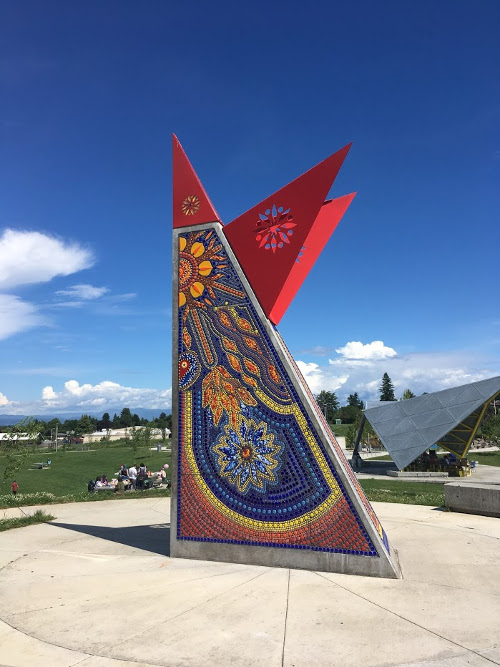 In the middle there's amphitheater seating facing a large shelter as well as a large field. When we were there the shelter had picnic tables in it but it also looked like it could be set up for performances.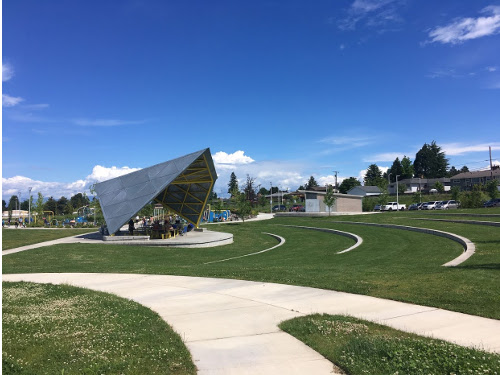 The east side of the park contains the play areas1. There are three main play area. The first is for smaller kids, probably preschool age. The equipment looks a little advanced for toddlers, though I did see toddlers wandering around gleefully grabbing on to the bottom parts of the equipment. In the middle was a medium sized net orb for kids to climb on.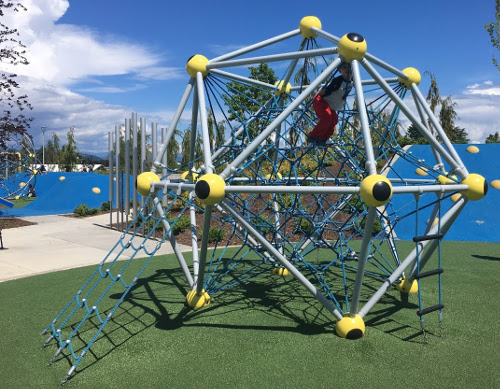 To one side was a rubber lined hill that included a double slide.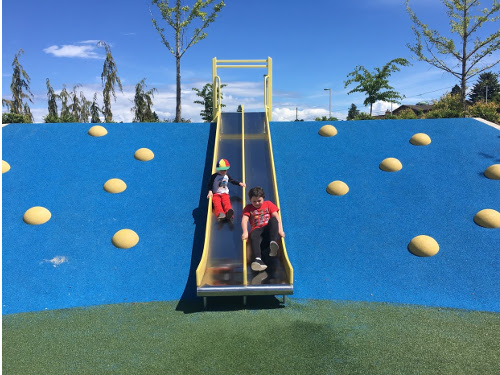 There's also a mini-merry-go-round. It looks like it could comfortable fit two, maybe three, but while we were there at least five teenagers somehow managed to climb on at once.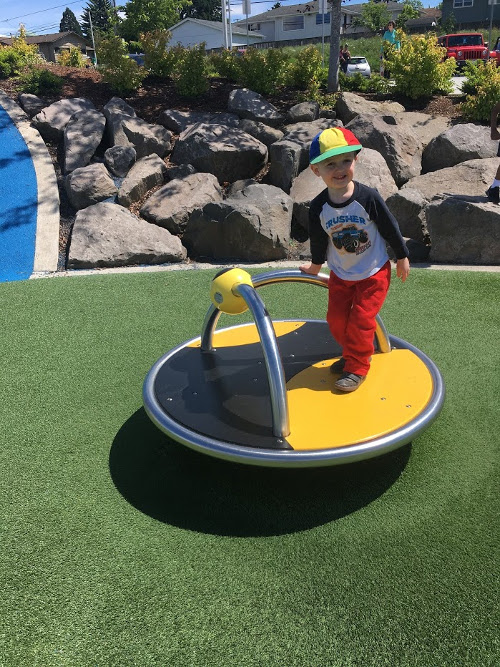 This area also had a little spinner.
Along the path to the next play area there were several musical installments. One was a very large set of vertical chimes kids could bang on. There were also two other installments, one was like a xylophone and the other smaller chimes.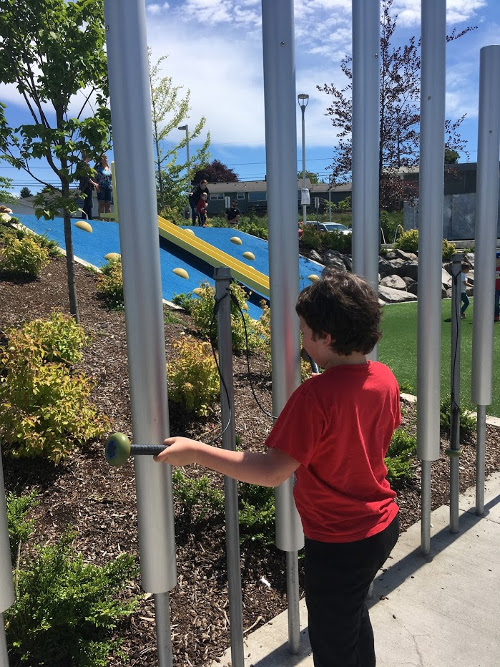 The next play area had a larger net orb that was surrounded by a sloped rubber wall. I expected Calvin would love this, as he always navigates to net climbing. However, he didn't spend as much time here as I expected. It could have been because he wanted to go back to the hotel for more swimming.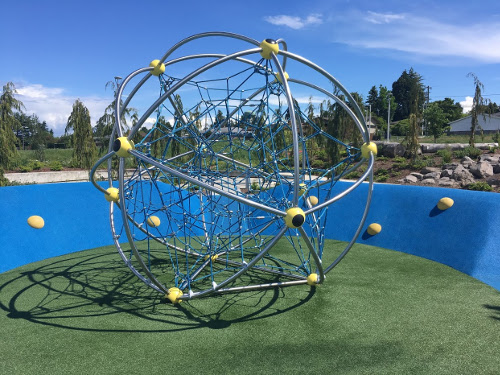 Julian did enjoy climbing up and down the surrounding wall.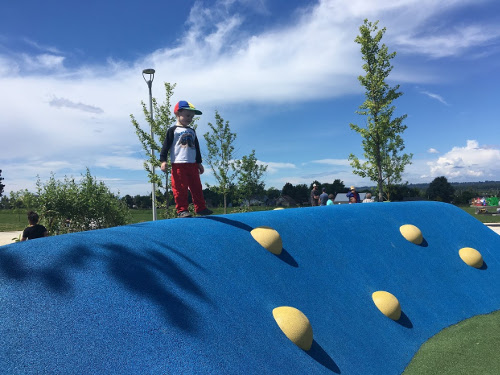 I think the highlight of the play area was a sand pit that looks like it has a water feature in summer. Julian enjoyed the sand as is but I bet it's glorious when the water is turned on.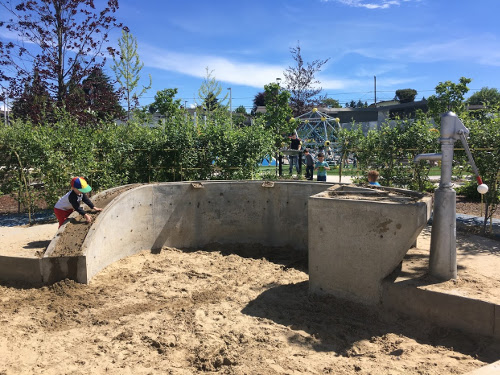 The sand pit was surrounded by a small shaded arbor tunnel. It looked the perfect size for preschoolers and toddlers to run through. However, it also provided a little shade to adults if they wanted to sit down in the path.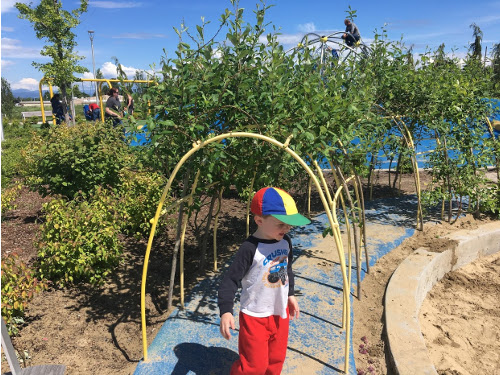 The park design also says there's a water feature in the area. However, it probably wasn't turned on while we were there and I completely missed it.
This park was fun to visit and does have lovely views. My only caveat is it's hard to see multiple play areas at once so if you have multiple small kids it may be hard to keep track of them with only one parent.
Summary:
Features
Double slide, medium-sized net climbing orb, toddler swings, larger net climbing orb, mini merry-go-round, spinner cup, rubber climbing hill, sand pit, water feature (in summer?), tall vertical chimes, outdoor xylophone, chimes, tunnel arbor.
Surface Material
Rubber and fake grass.
Restrooms
Yes, multiple family restrooms.
Water fountain
Yes
Shade
Not much shade. There are trees but they are very young. There is a shelter in the middle of the park.
Picnic area
Yes.
Parking
Parking lot.
Coffee
None.
Pros

Big spread out park.
Sand pit looks like it will be lots of fun in summer.
Sturdy looking musical chimes.

Cons

Hard to supervise multiple play areas at the same time.

View Random Parks and Playgrounds in a larger map
It turns out there is also a north east section which I didn't notice while there that contains (or will contain) a teen area, basketball courts, picnic area, and community garden. ↩