We have been living in our current house for over a year. I think it's on its way to being my favorite house. This is a relief as we're hoping not to move again for at least another decade. I started with a solid layout plan prior to moving in. However, the longer we live in this house, the better feel we have for our needs. As such, we've been making incremental changes.
My office is one area that's been going through regular small adjustments. The major components of my preliminary SketchUp plan mostly worked.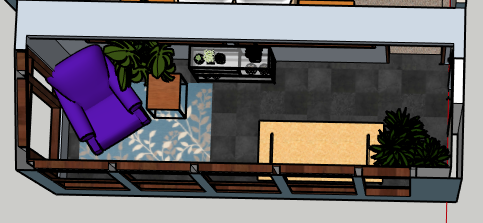 The room is long but relatively narrow so I chopped it up into two areas: an office area and a seating area.
We never got the plant stand I was originally envisioning but I'm not sure it really would have fit well anyway. We do have a coffee tree, curry leaf plant, and mint plant in the sunroom. While the three plants live in my office, Jaeger takes care of all of them. I kill plants but Jaeger clearly has a green thumb. He keeps acquiring more plants and they all seem to love him.

I wanted blinds for the windows but the people I talked to said the skylight frame wasn't deep enough. So I went for regular curtains for the vertical windows and foam core board, as needed, for the skylights.
I also ended up adding a tall, but narrow, bookcase next to the hallway door that contains office supplies and my romance books.

However, the most expensive upgrade I made just a couple of weeks ago. I finally bought an Uplift desk, similar to Jaeger's and a desk treadmill.
We've recently switched up our evening schedule to include Julian in family TV time. Up to this point, I'd finish the dishes and then try to go for a walk or use my old treadmill prior to watching TV with Jaeger and Calvin at 8:00pm. However, to include Julian, we needed to move TV time to 7:00pm. I was having a really hard time trying motivating myself to do any level of exercise after watching TV. I do usually go for a walk during lunch but that doesn't always work for my schedule and, in any case, it's not a particularly long walk. Of course, there's the option of getting up earlier but I've really been enjoying not having to get up till 7:00am.
In any case, I started mulling the conundrum around in my head trying to think of solutions. Back in 2013 I bought a cheap treadmill and used existing materials in my house to create a treadmill desk. This worked surprising well and, as an even bigger surprise, the treadmill still works and has survived five moves. It's not in the best of condition but it still works. However, it's currently in the downstairs bedroom, which Jaeger uses as an office, and wouldn't easily fit in my office. I didn't want to trade offices with Jaeger and I believe the feeling is mutual. So, I figured I'd see what's available on Craigsilst. Craigslist did have desk treadmills for sale. Though, they felt kind of expensive for Craigslist. On a whim, I looked on Amazon to see what an official desk treadmill cost and was surprised by how cheap they were. Back in 2013, you couldn't get a treadmill desk for under $1,000. To be fair, I think the good ones still cost over $1,000. However, I wanted to prototype the idea before spending a lot of money on it.
That said, a desk treadmill also requires an adjustable desk because I didn't want to end up with two desk areas again. I've become too attached to having two large external monitors. I was less hesitant to spend money on an adjustable desk. Jaeger has had his Uplift desk for over a year and still likes it. I really like the memory options to automatically raise and lower the desk to predefined heights. So, once I figured out exactly what options I wanted, the desk was pretty easy to order.
The treadmill took more thought. There's now quite a few cheap desk treadmills available but all of them had a decent number of reviews complaining that the treadmill broke in less than a year. After waffling for a bit, I decided that this treadmill was good enough.
Both the treadmill and the desk arrived fairly quickly. The treadmill didn't require any setup which was lovely1. The desk took a lot longer but it wasn't hard, just a little tedious.
So far, both the desk and the treadmill are working out great. I store the treadmill under my bed when I'm not using it. First thing in the morning I'll pull out the treadmill and walk on it for an hour or two, depending on my meeting schedule. The fastest the treadmill will go in the desk treadmill configuration is 2.5 mph. I'd like it to go a little faster but it's adequate to create a light sweat. At a minimum, I'm burning more calories than sitting at the desk. To my surprise, I can actually work while walking. I originally thought I'd mainly use it when reading email or other documents. However, it turns out I can also comfortable type while walking. Ten minutes before my first meeting, or after 2 hours if my morning is miraculously meeting free, I stop walking and store the treadmill back under the bed. It's a minor pain to move it every day but I like having it completely out of the way when I'm sitting at the desk.
So far I've only used the desk once to stand, but not walk. That was an after lunch meeting where I figured standing might help me stay awake. Though, I think I fidget too much when standing.
At the moment, this looks like it's going to be a nice long-term solution. I'm not entirely sure what I'll do if/when this treadmill breaks. Now that I've confirmed the concept is working for me, I'd be willing to pay more for a better quality treadmill. However, from what I've seen, the more expensive treadmills are also longer. They may not fit with my current office configuration, which I could change but would rather not, and they're also heavier so may be hard to store out of the way. Hopefully, this treadmill will end up with an unexpectedly long life, similar to my first treadmill, so I won't have to figure it out for a long time.
I've put together and taken apart my old treadmill numerous times and it's always a huge pain and I always end up with mysterious left over screws. ↩