The weather has calmed down a bit, at least for the moment. Boulder has great parks but, sadly, they don't have water features nor a lot of shade. Thus, most summer days I was unwilling to drag myself to the park. Then, we had a lot of lovely rain that turned into flooding. Even I must admit we got too much rain. Several days after the flood the weather was in the lower 70s and sunny, perfect park weather. Unfortunately, every park we tried was closed due to flooding or the roads to the park were closed.
Today, we tried another excursion, this time to East Boulder Community Park. I also made sure to check ahead of time that it wasn't on the closed park list and all the roads to it were open.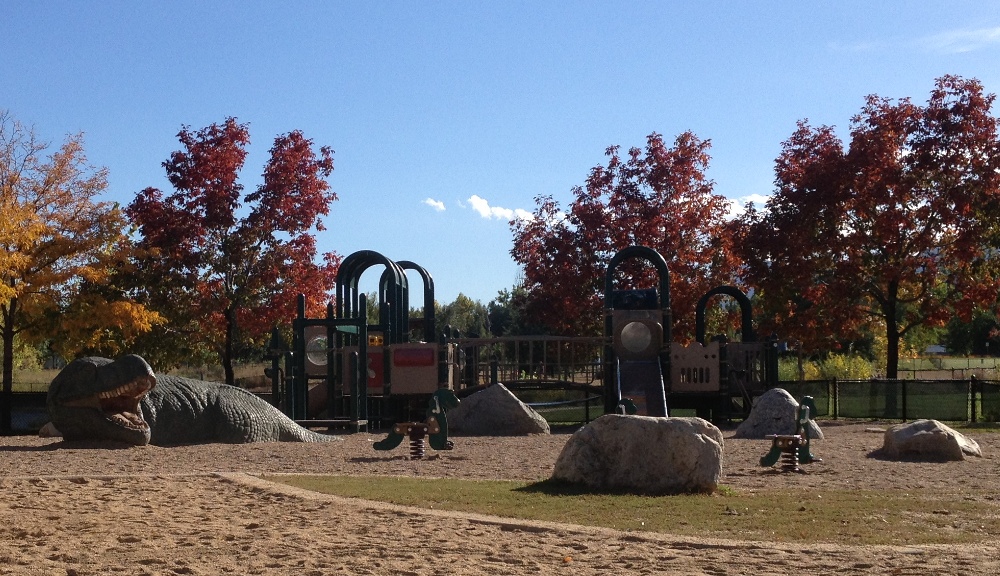 This playground is in a large park complex that includes a rec center, lake, dog park, tennis courts, handball courts, and squash courts (we have these in the US?). The playground itself is very nicely designed. Most of it is fenced in, probably to prevent the ducks from getting in, but it also nicely corrals the children. In addition, there's a very wide variety of playground equipment for all ages as well as shaded picnic tables.
Before we entered the playground area, Calvin got distracted by the lake and the ducks. However, Calvin lost interest fairly quickly.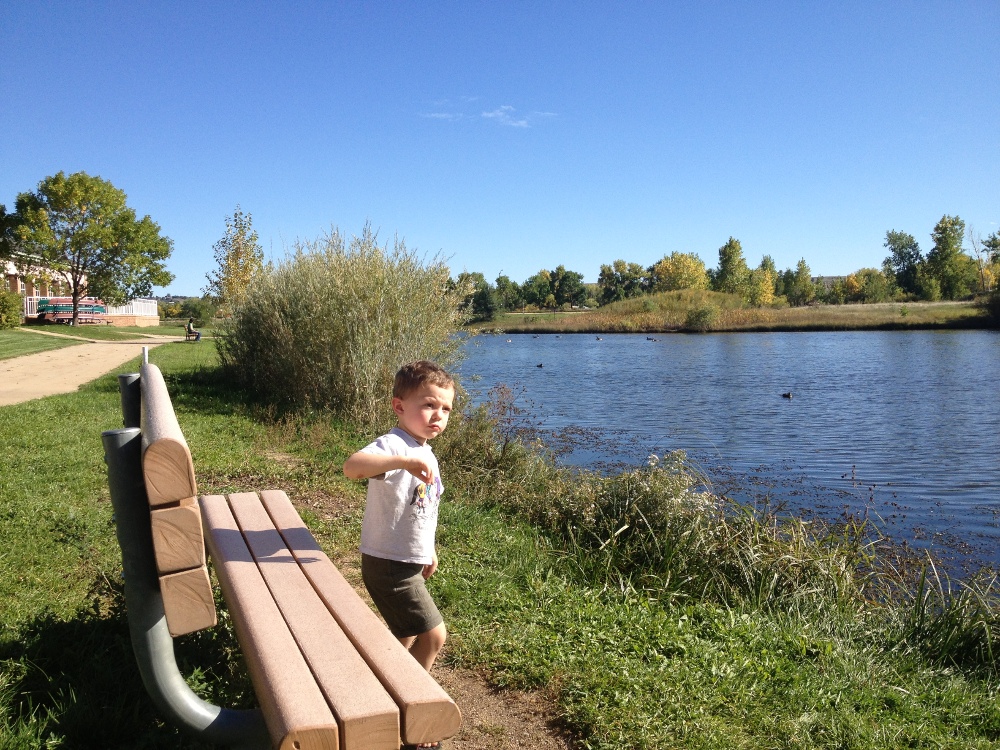 As soon as we entered, Calvin headed straight for the prominent reptile. He was going to climb up on it but the sun had made its surface fairly hot.
After the reptile, Calvin headed straight for the play area designed for 5-12 year olds.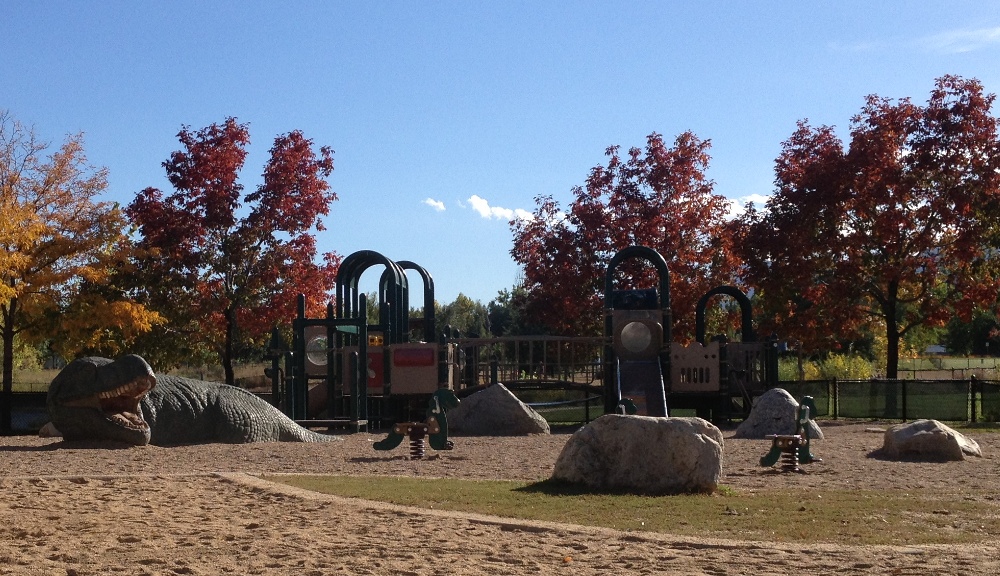 This play equipment had a couple of unique features. One of them was the rollerslide.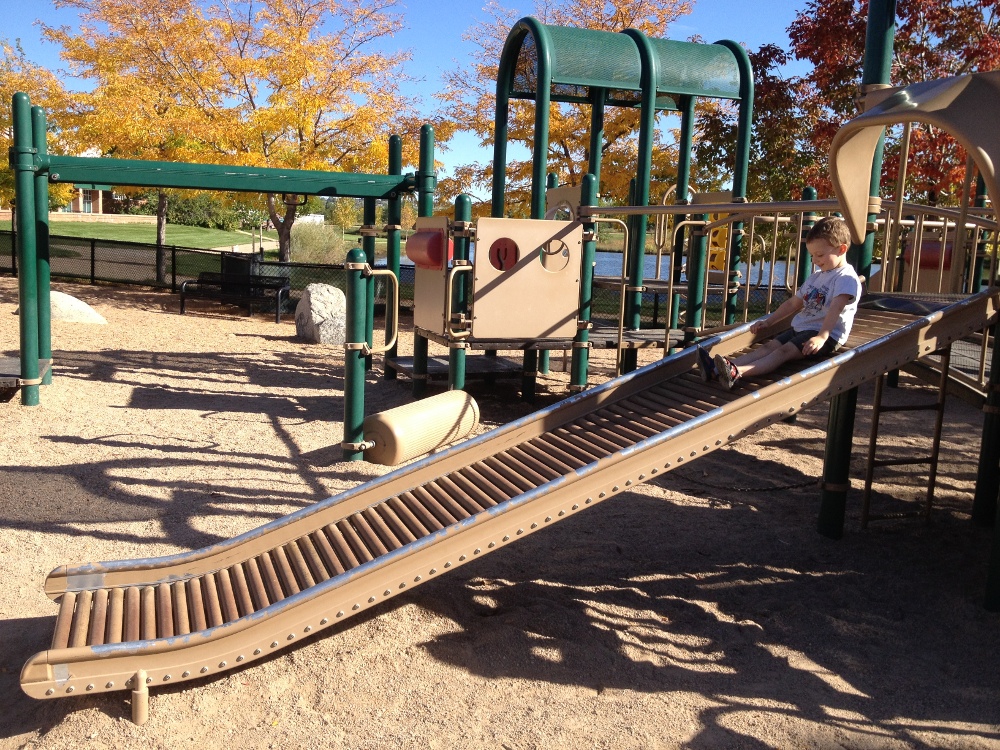 Calvin managed to do fairly well on the roller log. He keeps getting bigger . . .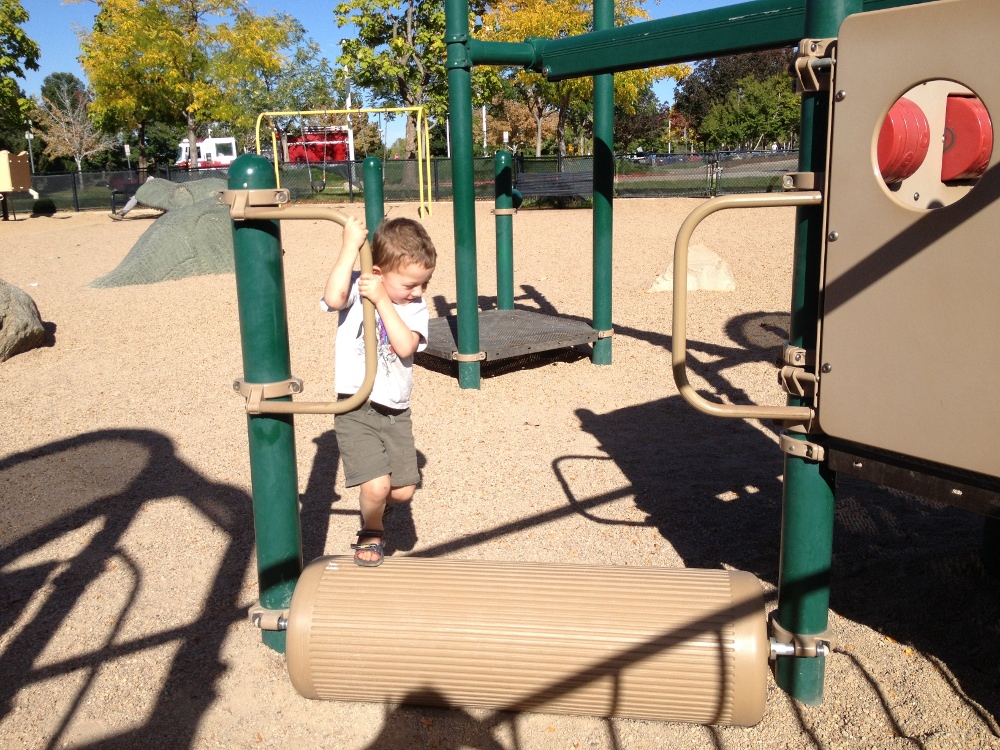 The equipment also had three different types of bridges: an arch bridge, belt bridge (basically reinforced rubber), and a "clatter" bridge.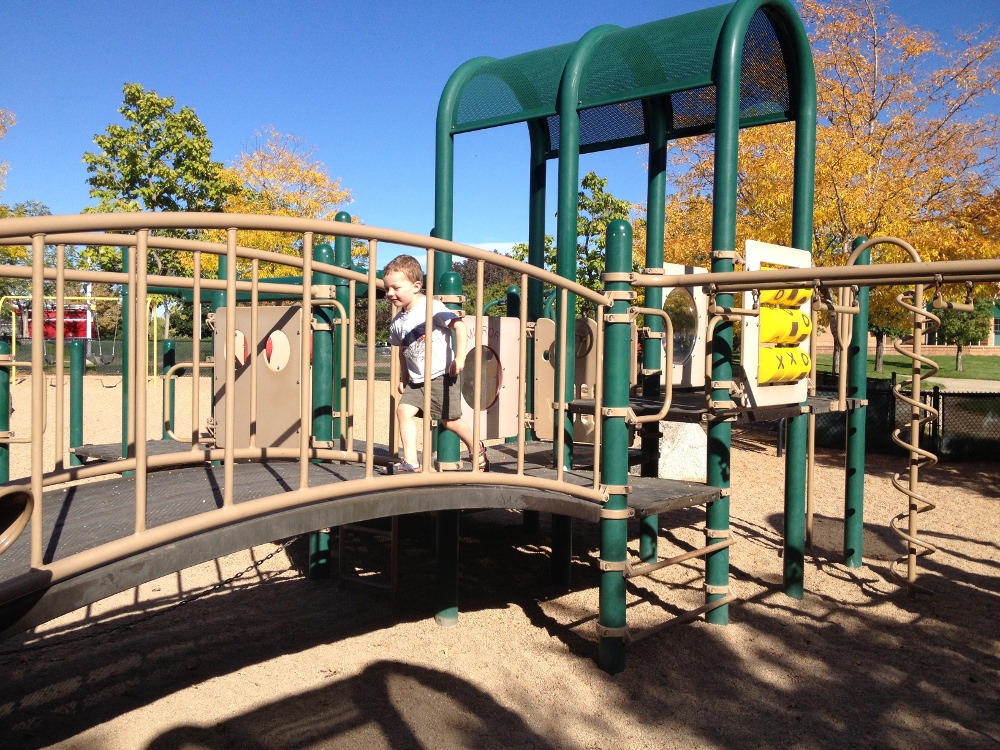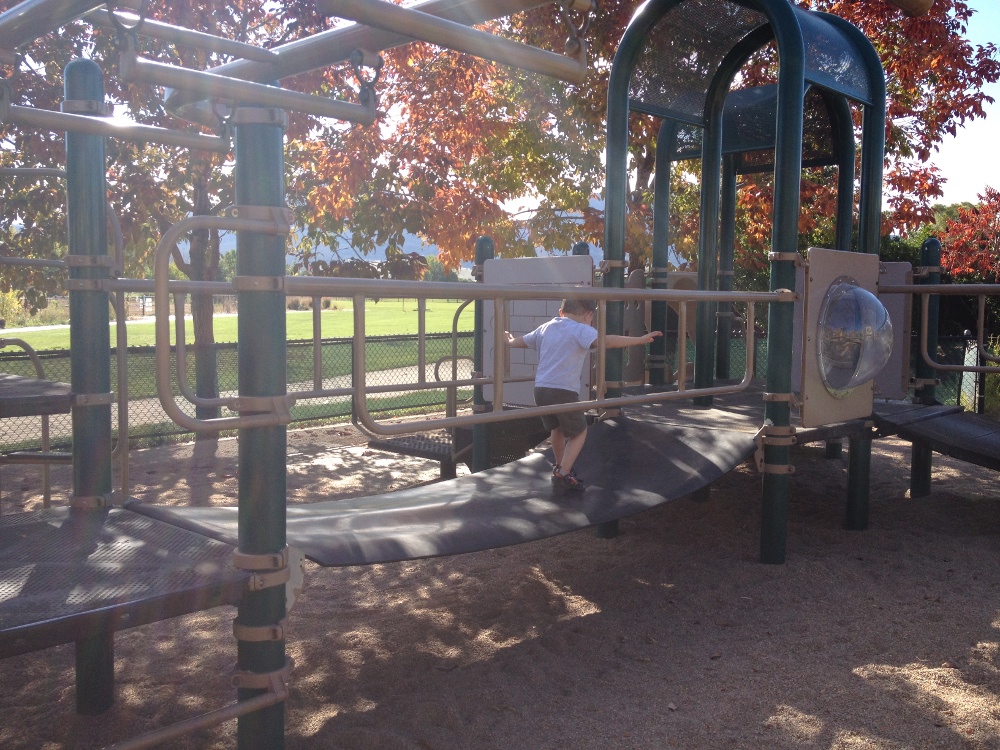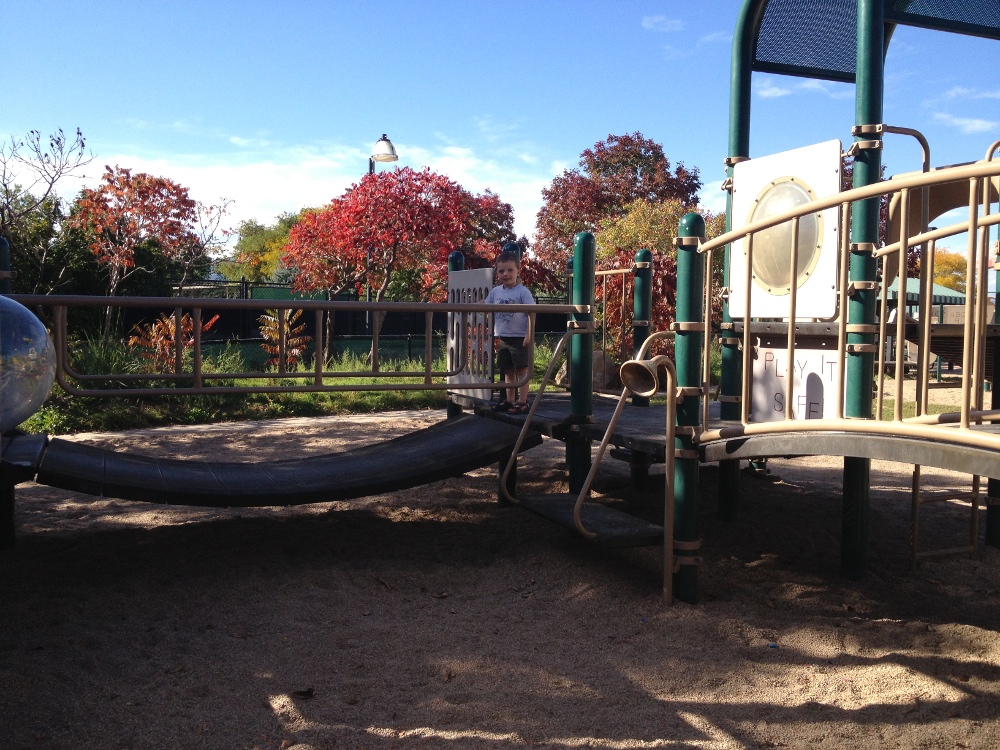 It also had "enrichment" options such as the maze panel, tic-tac-toe, and bubble panel.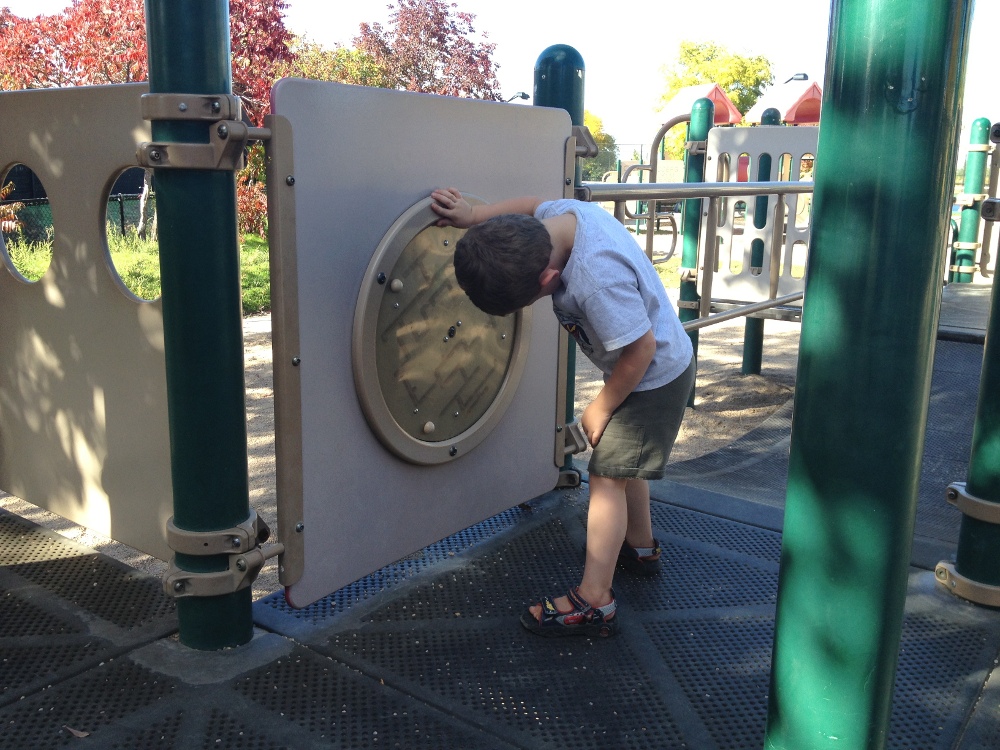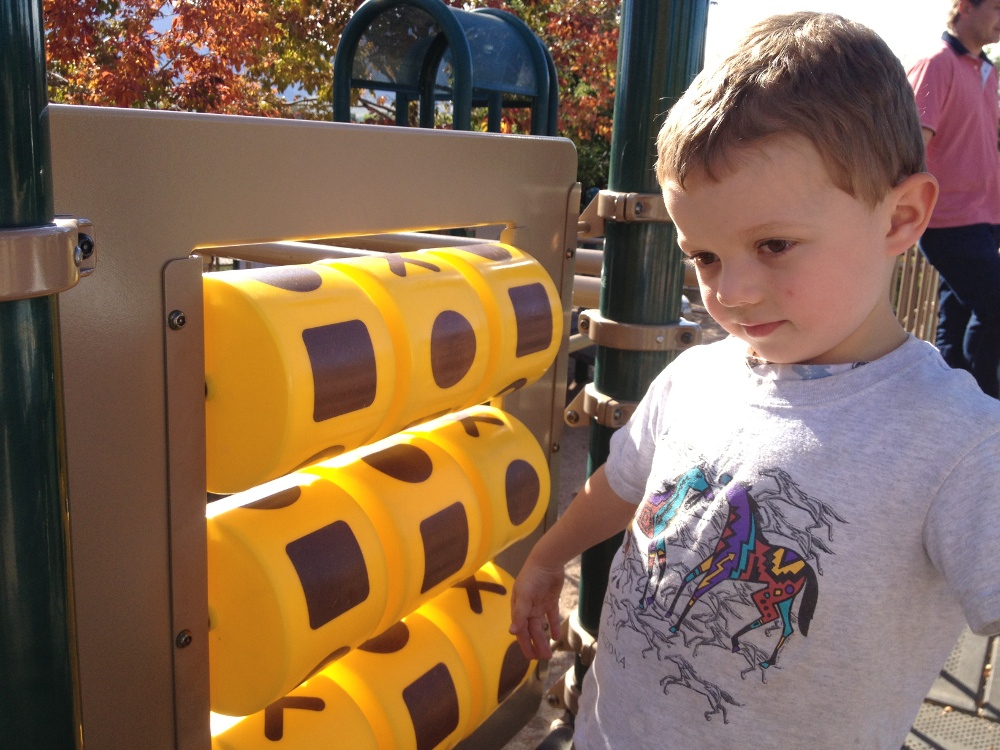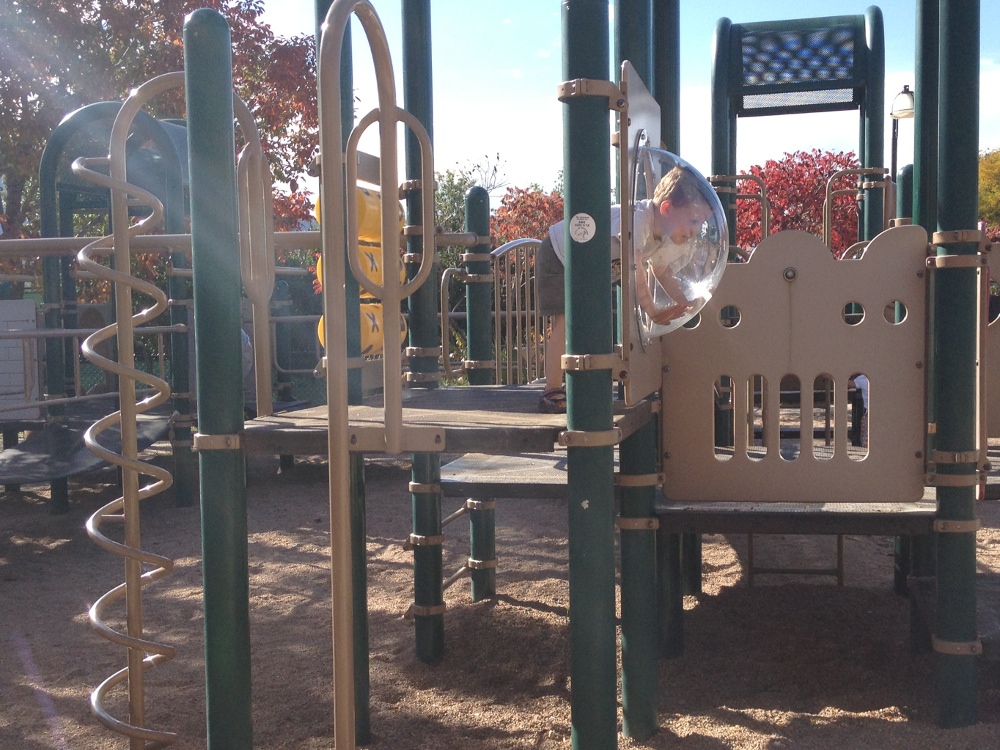 I was fascinated by the "spiral climber." They were pretty big steps but Calvin managed.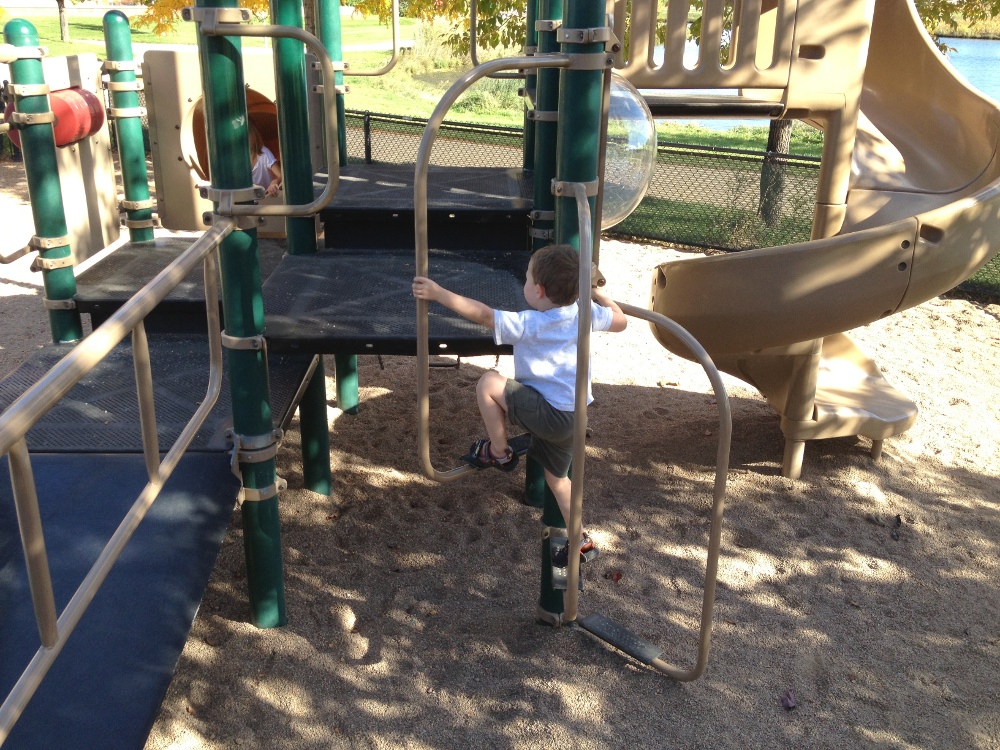 Also, Calvin is hanging on better to overhead equipment. This is the trapeze horizontal ladder. He couldn't manage to get to the next trapeze bar but hung on this one for a fairly long time.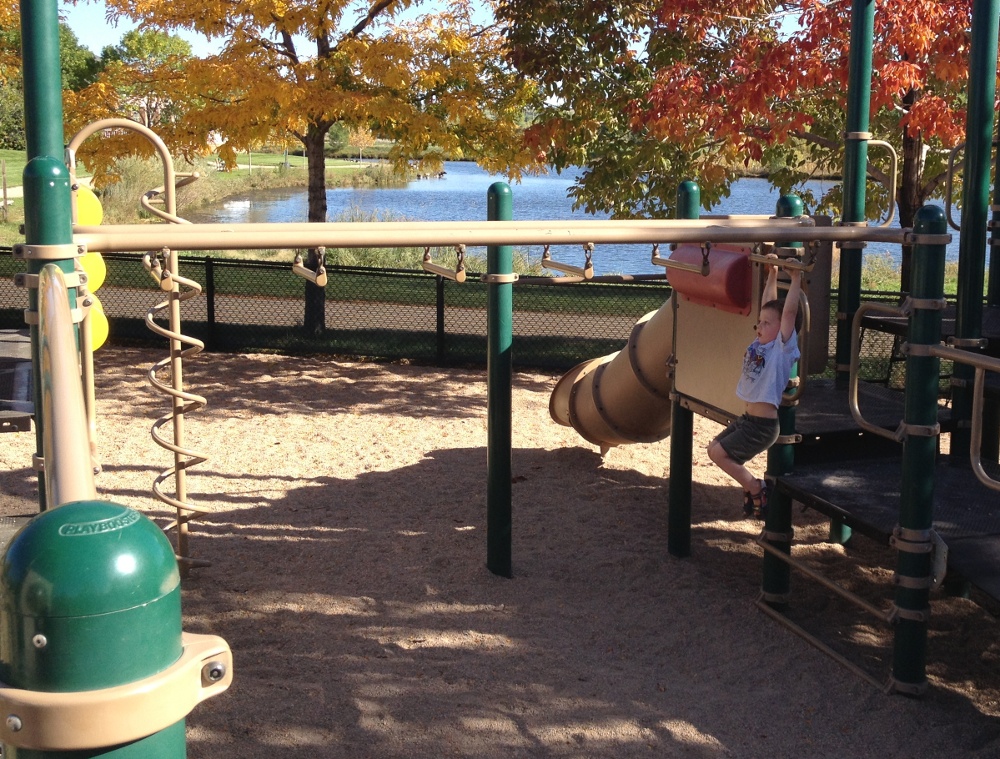 Calvin briefly went over and explored the equipment designed for 2-5 year olds but found it fairly uninteresting.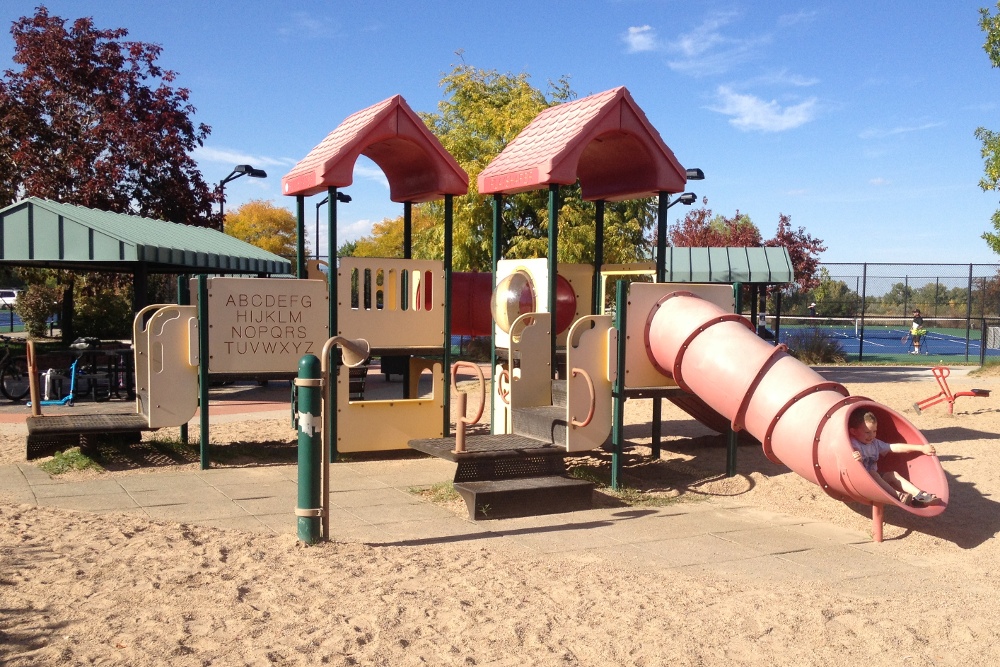 There is also a "club house" and a contraption that looked like it was suppose to be hooked up to water. However, it wasn't turned on.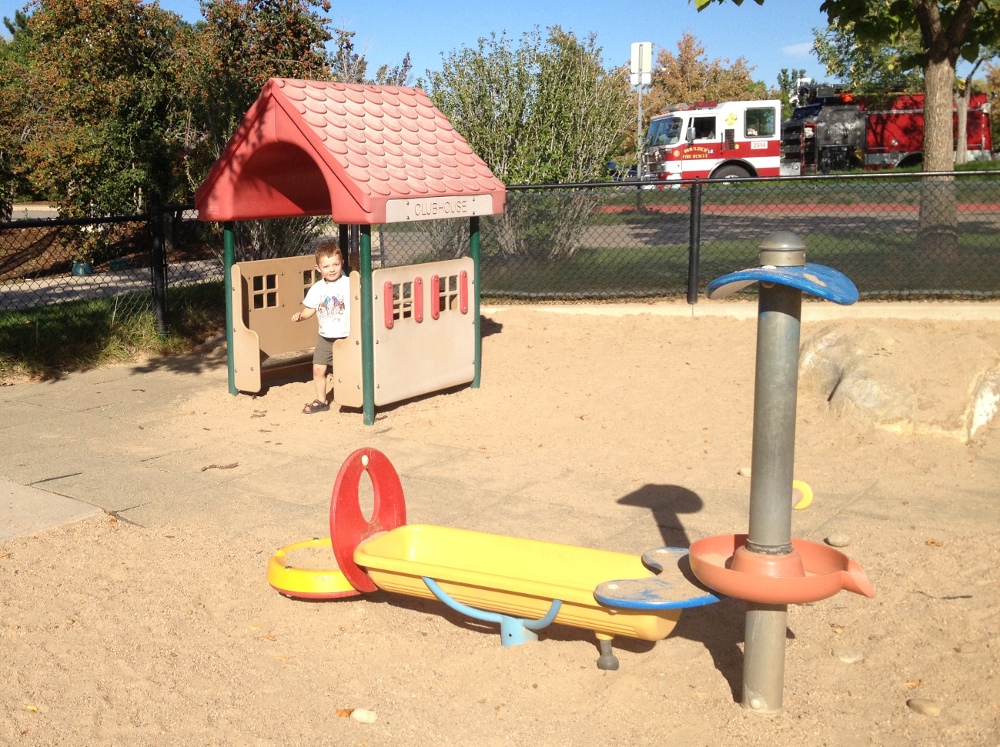 Most of the surface material was sand. However, they had an official sandbox as well as a digger.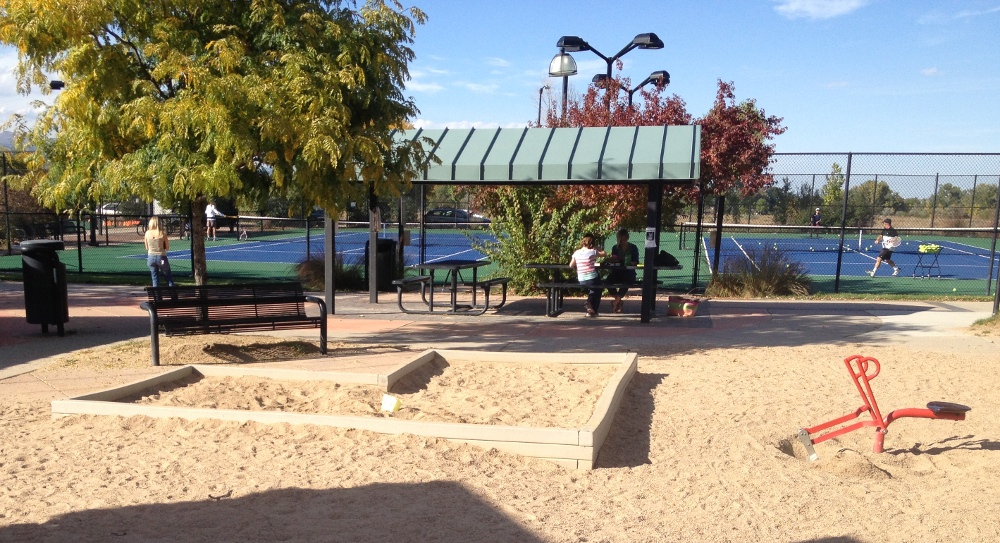 However, the highlight of the visit was probably the discovery of the "playworks" structure. At first it looks like just another piece of playground equipment. However, if you look closer, you can see it has various tubes running through the structure as well as tethered shovels to pour sand into the tops of the tubes.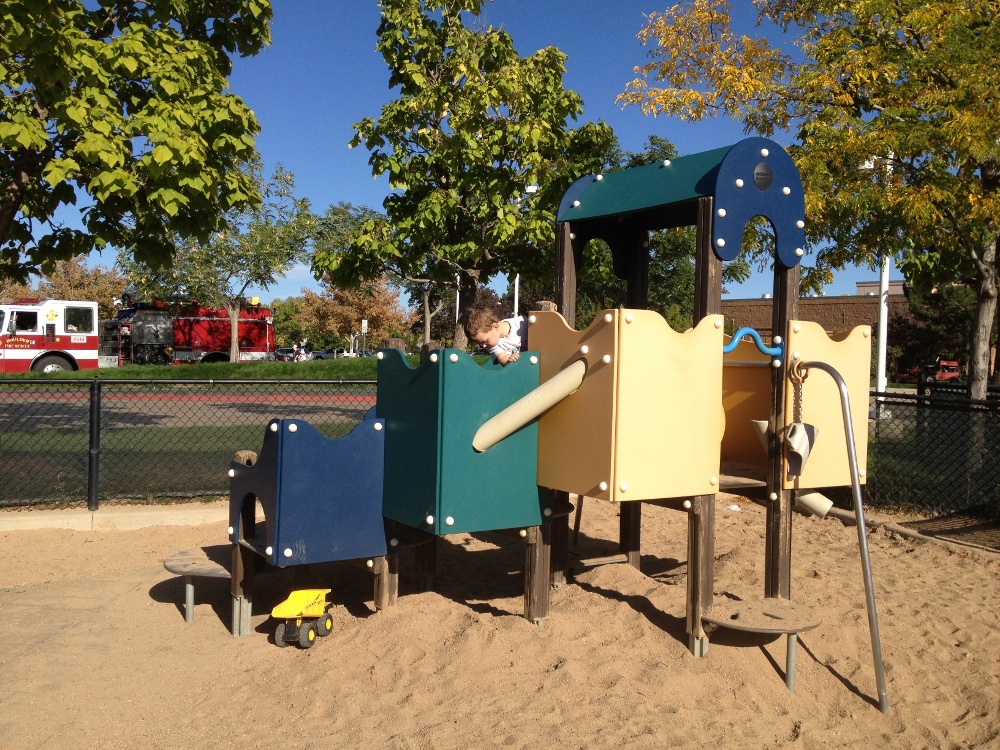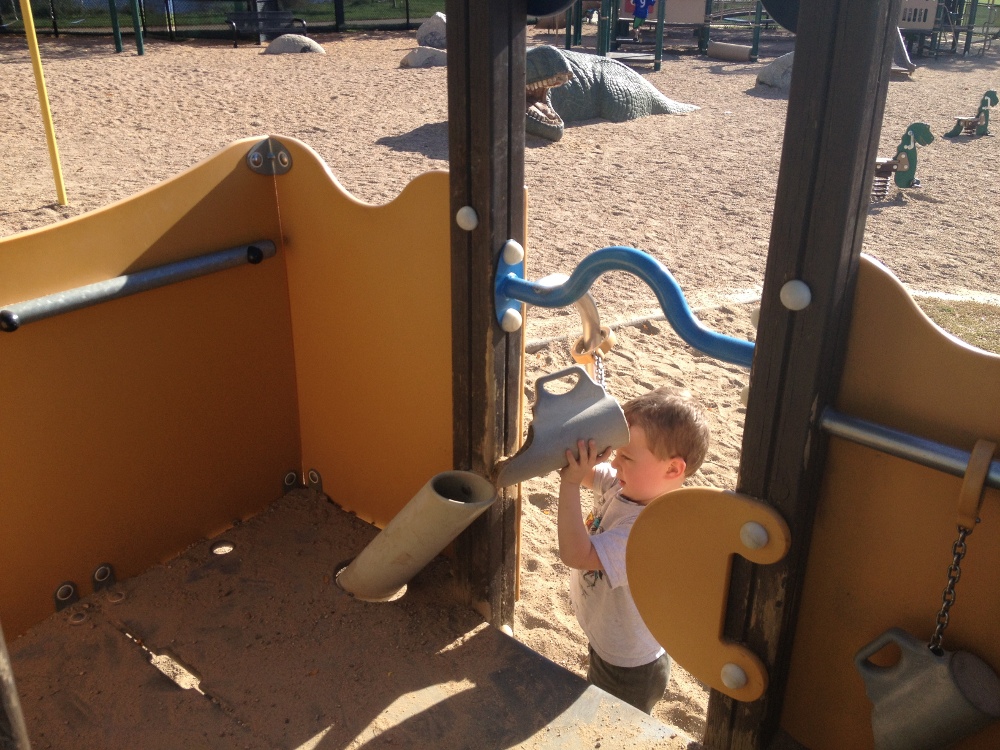 The tethered shovels were good in that they wouldn't walk away. However, they are a bit awkward to use. Fortunately, I had brought along Calvin's shovel, pail, and dump truck just in case we discovered sand. This allowed Calvin to put sand in his bucket and lug it up, and then use his shovel to move the sand down to his dump truck at the bottom of the tube.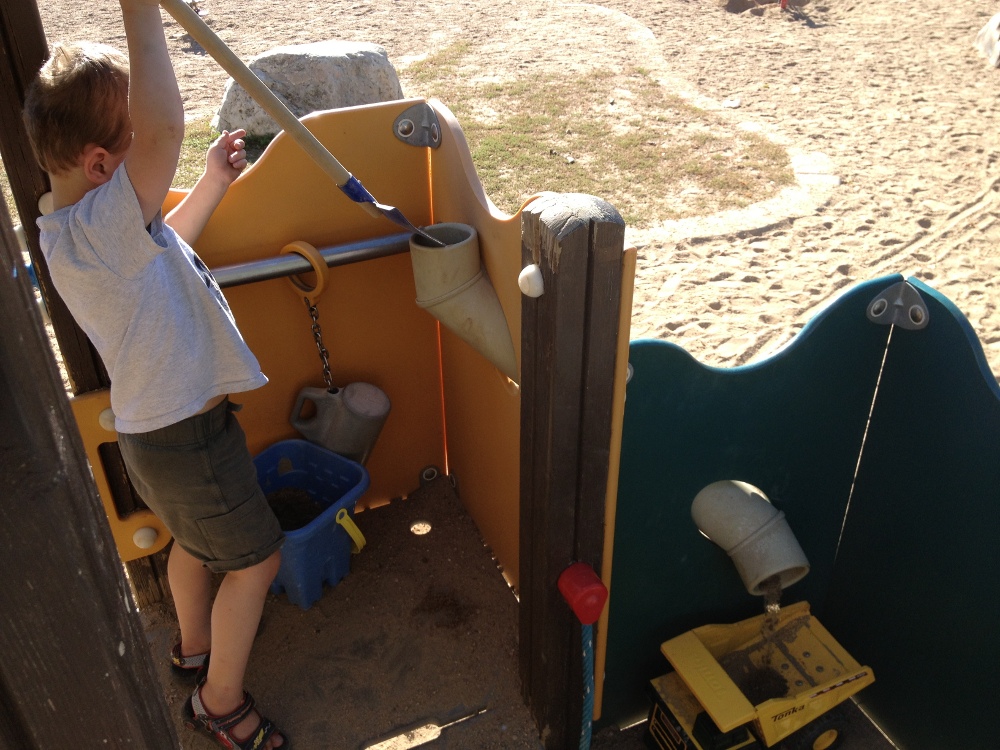 This is a very nice playground. I'll definitely plan to visit it again in the future.
Summary:
Features
5-12 year old equipment, 2-5 year old equipment, club house, sand box, sand play works (tubes and shovels), sand digger, roller slide, covered slide, bridges, tic-tac-toe, maze panel, bubble panel, spiral steps, trapeze horizontal ladder, log roll, regular swings, bucket swings, track ride, spring riders
Surface Material
Mostly sand but some poured rubber
Restrooms
I assume there are restrooms in the rec center but didn't see anything obvious near the playground
Water fountain
Not sure
Shade
Shaded shelter with picnic tables. The 5-12 year old play equipment does get some shade from trees but the rest is un-shaded.
Picnic area
There are two small covered shelter with picnic tables.
Parking
Parking lot for both the playground, community center, and everything else in the area.
Pros

Amazing variety of equipment for a fairly small area
Has a nice variety of things for children to play on regardless of age.
Lots of nice sand play options

Cons

View Random Parks and Playgrounds in a larger map