Tuesday we took an unplanned visit to Dakota Ridge Park because the weather was so nice it seemed wrong not to go to the park. While there, I talked to another mother who said that the Foothills Park was very nice. She inspired me to go check it out.
This is a "community park", versus a "neighborhood park", so it covers a fairly large area. I looked at it on Google maps and was able to guess where I thought the playground equipment would be. However, I wasn't sure how to get to it. We entered the park but I decided to turn south which took us past a play structure by the community garden. However, it didn't look large enough to be the playground equipment I had seen on the map. So, we retraced our steps and went to the north side of the park. Once we got there, it was obvious that the north side was suppose to be the main playground area.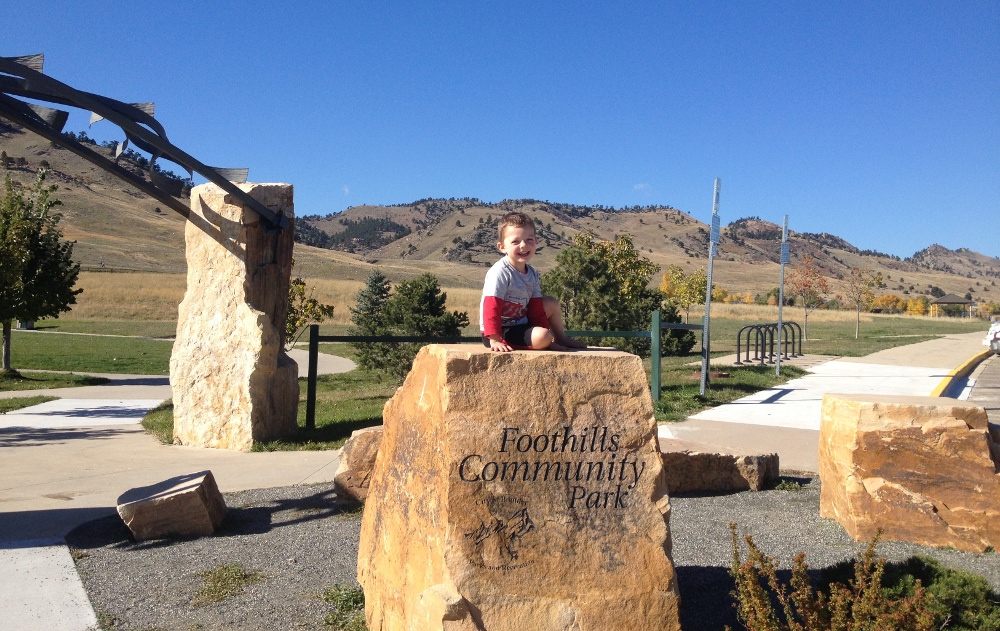 The view is pretty impressive. As the name suggests, it hugs the foothills. It also looks like it has a lot of paved paths so it might a good place to take Calvin to ride his bike.
The playground area is divided into two sections. The bottom section contains fairly traditional playground equipment that contain hints of boatness.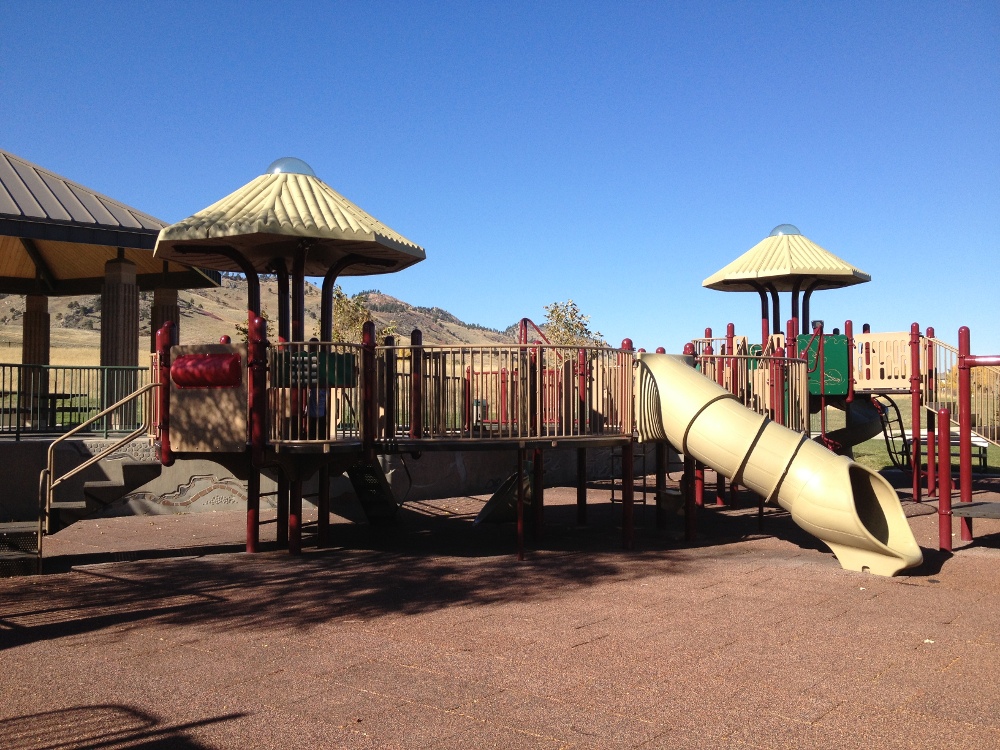 Among other things, they had a periscope.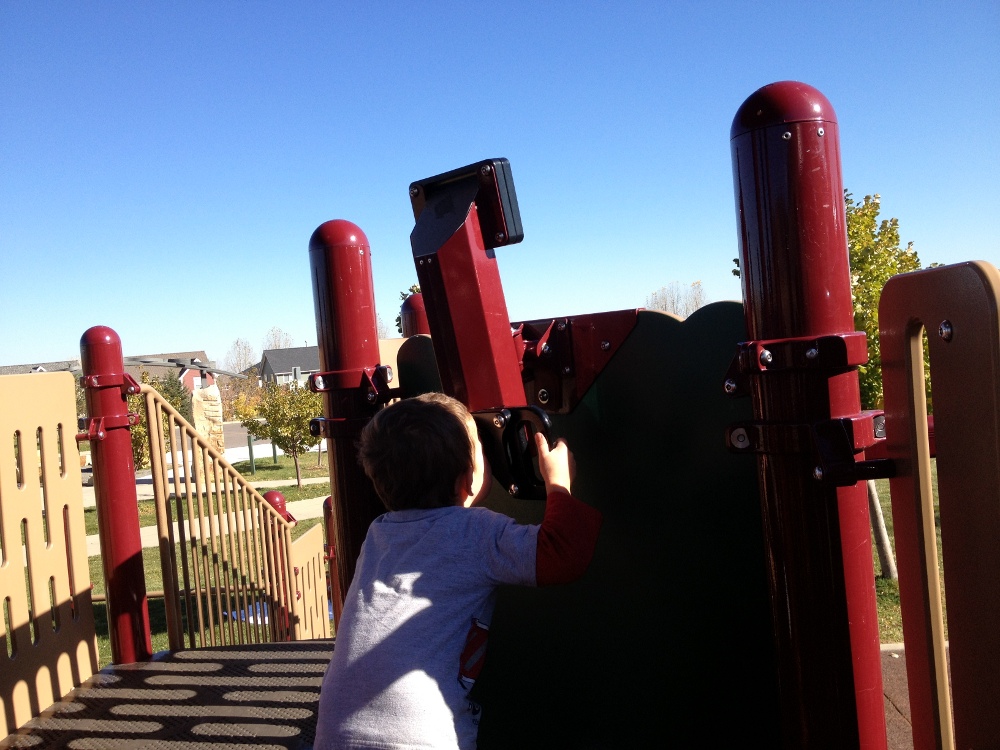 They also had ladders which Calvin thought were like the ladders on the fireboat we saw in Hong Kong.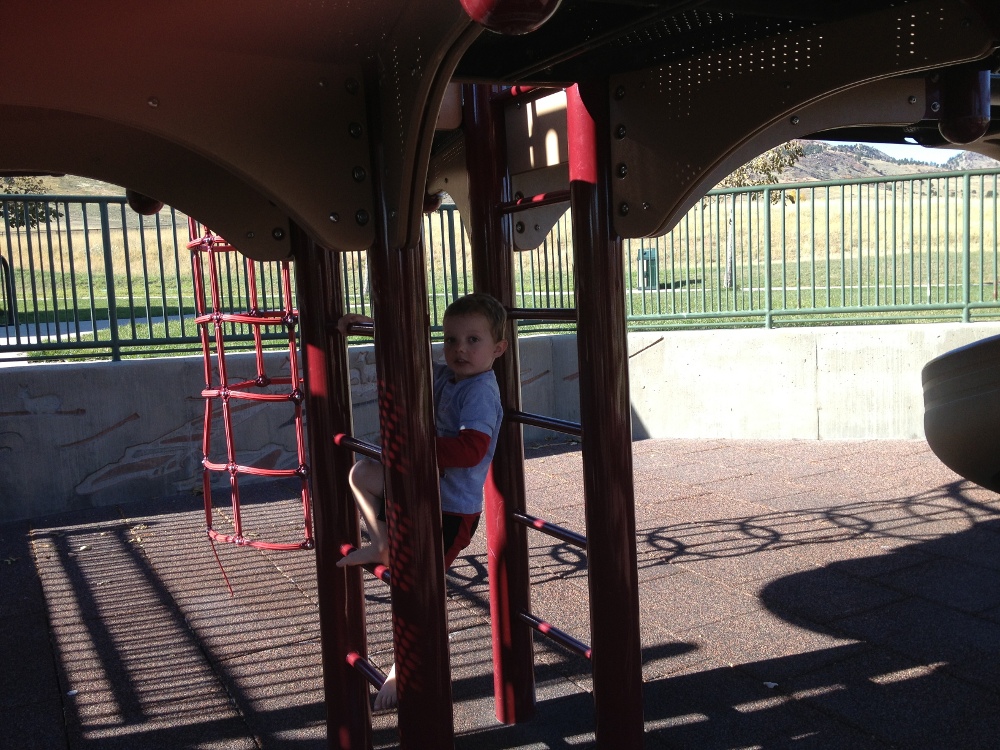 In addition to the periscope, they had a lot of other panels on the equipment: several different wheels, "fan" panel 1, gears, and a "spelling panel".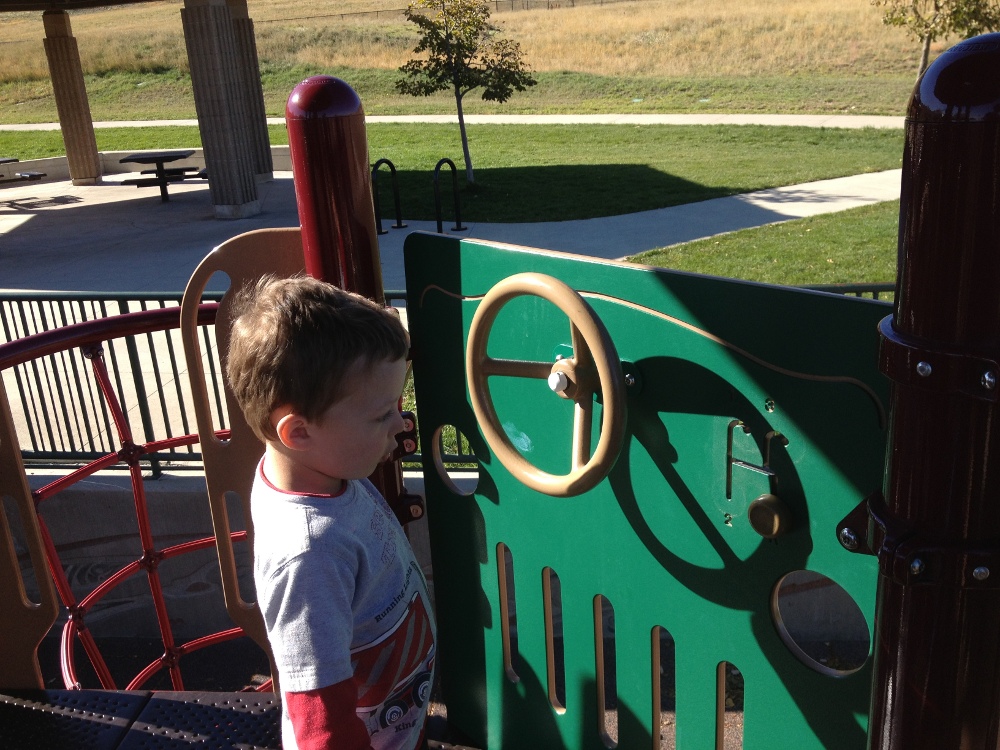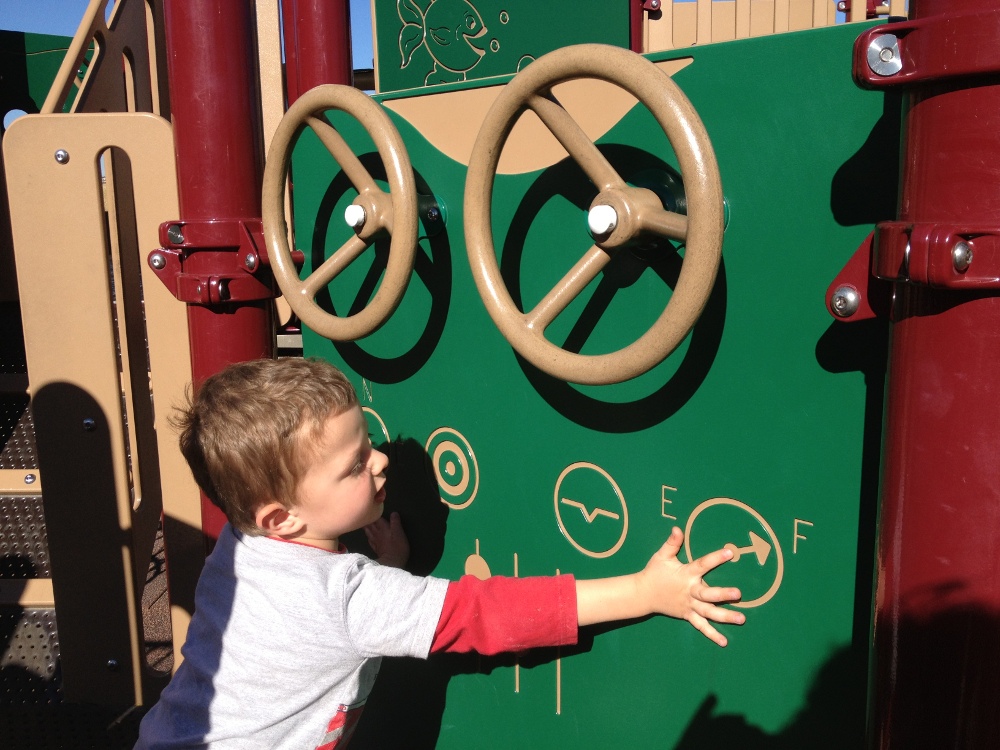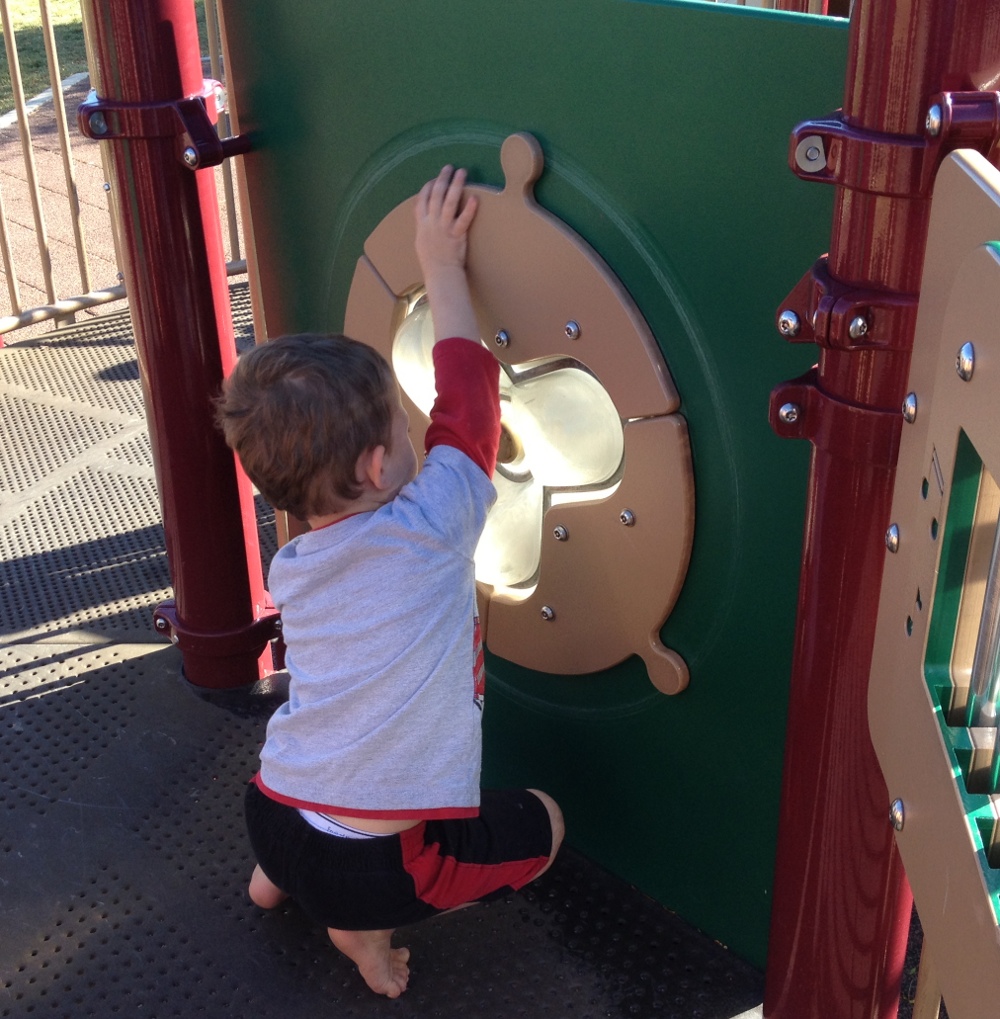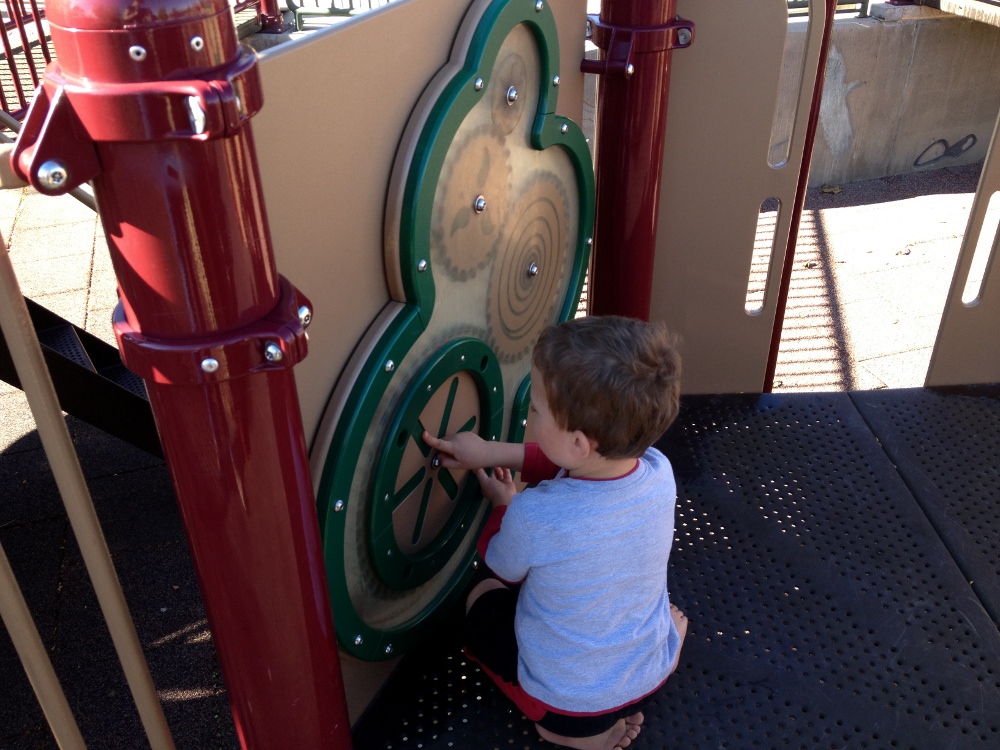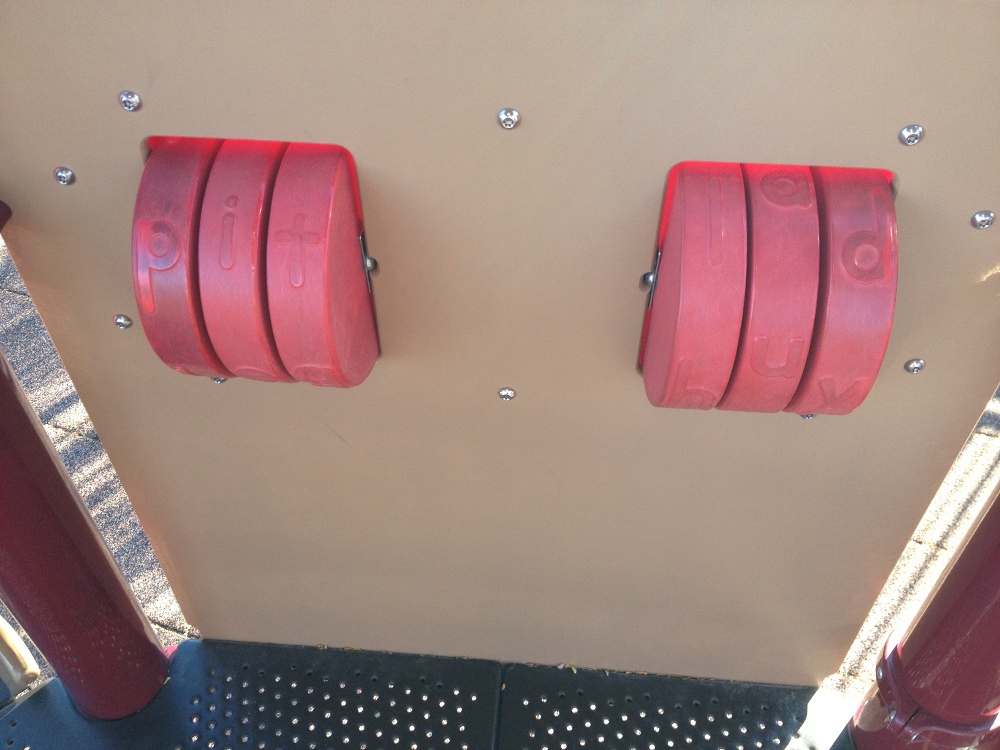 There were a lot of different climbing options to get into the structure including several rope ladder variations.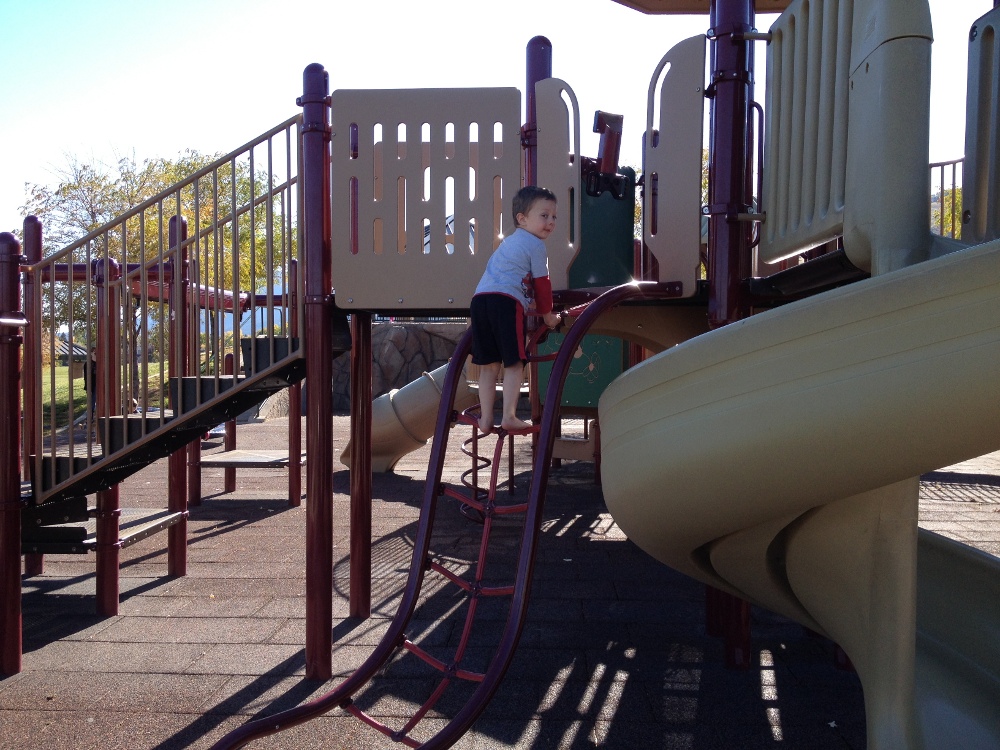 Calvin had fun playing on the lower structure but I think he would have had even more fun with a group of kids where they could have play-acted being on a ship. After a bit, we went around to the upper playground equipment.
This equipment was more contemporary, the same sort of things that the Dakota Ridge Playground has. I was initially skeptical of how non-traditional this style is. However, after watching kids play on it, it obviously offers a lot of upper body exercise. There was a little girl playing and it was amazing how, using just her arms, she was able to hoist herself all around the ropes and "hammocks." Like the little girl, Calvin enjoyed scrambling all over the equipment.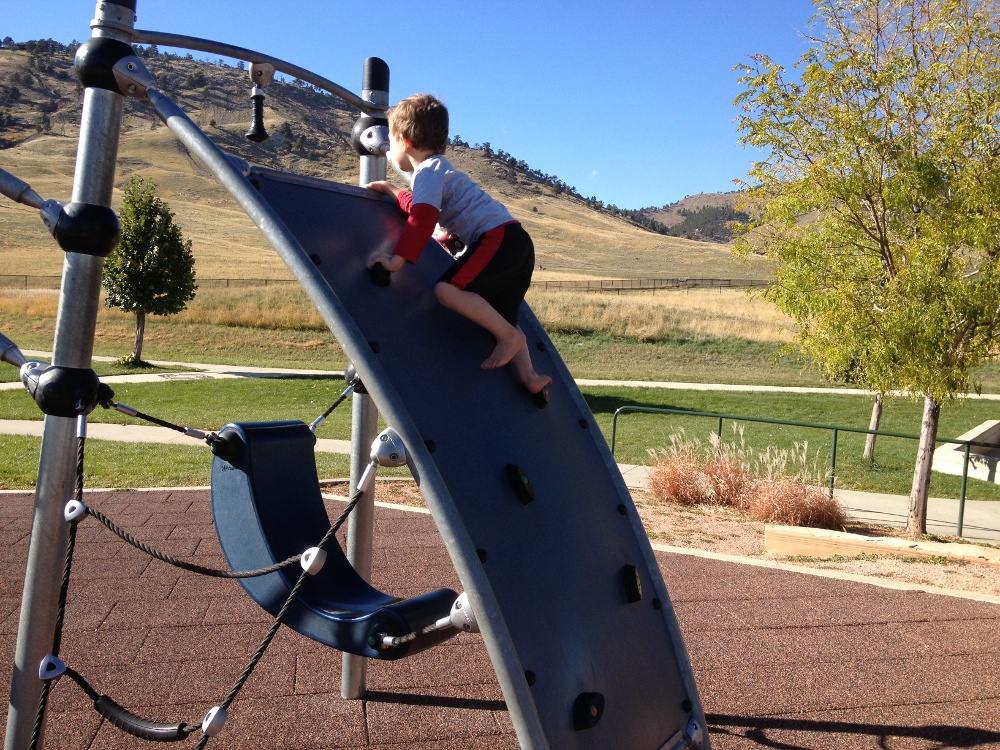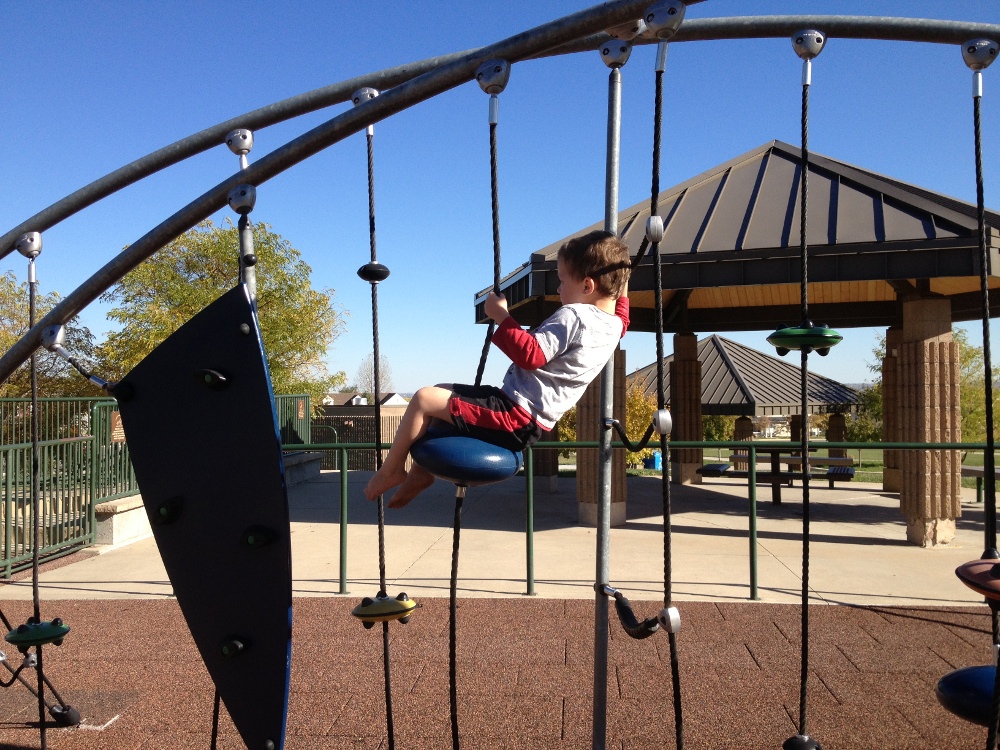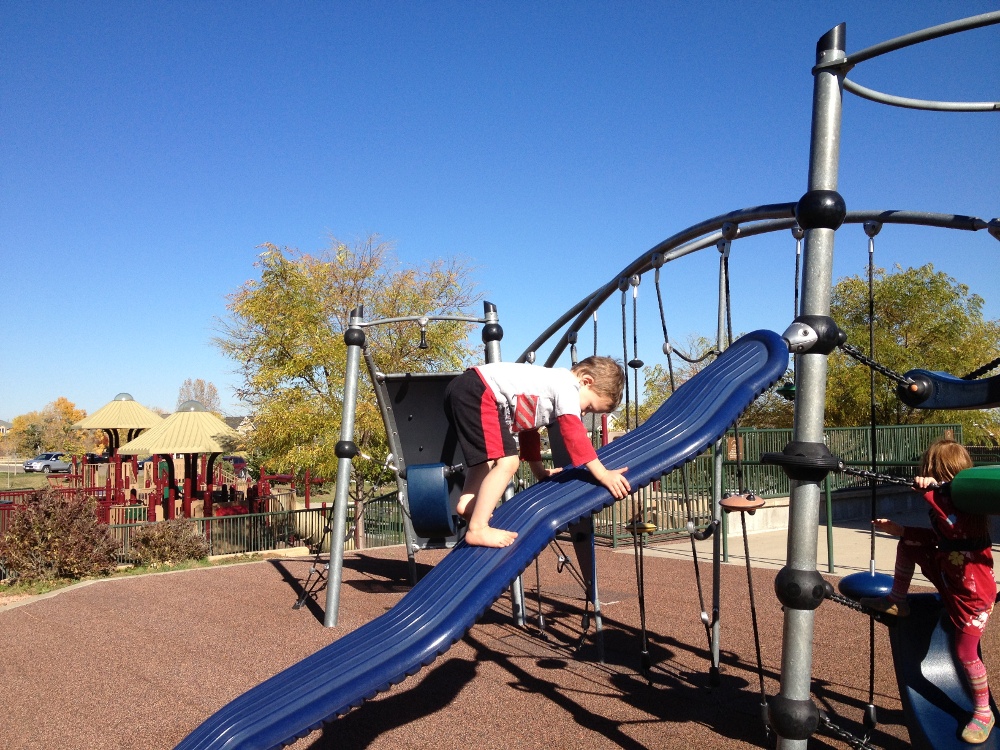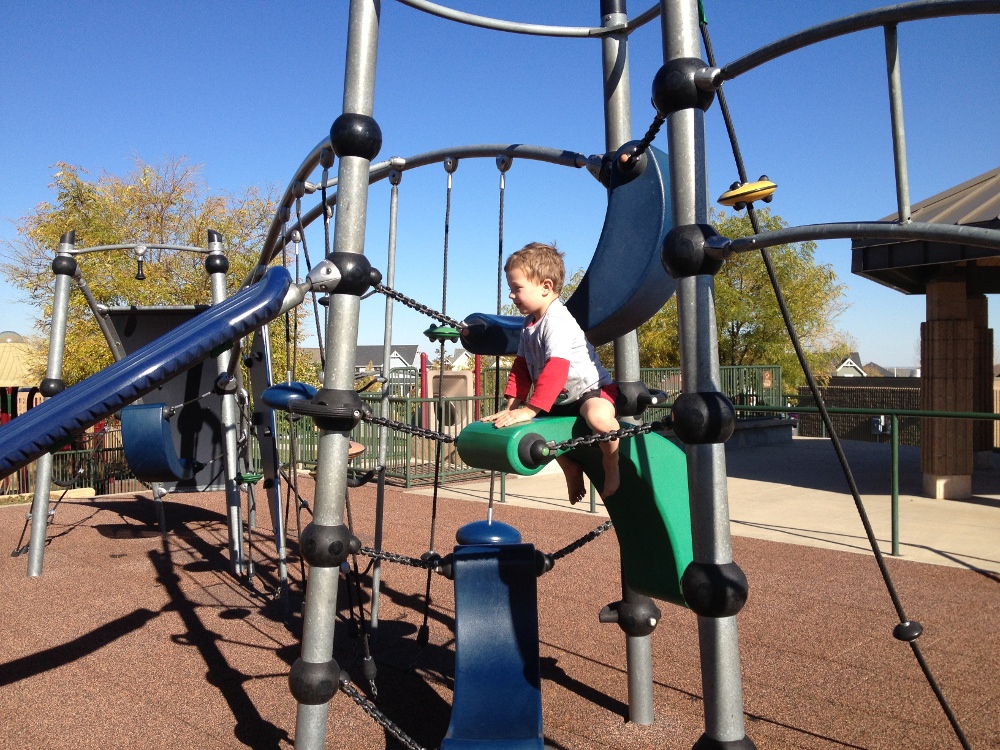 While Calvin was enjoying the equipment, I wandered around to see what else was on the top level. There were a couple of swings including regular swings, bucket swings, and a molded bucket seat. Then I went over to where there appeared to be a covered slide that went from the top area down the bottom area. However, it was completely fenced in with no gate. Eventually, I realized that you were suppose to climb the rock wall to get into the enclosure and slide down. The slide was interesting in that it was a tube but had clear pieces interspersed so it wasn't too dark inside. I called Calvin over and he got a kick out of climbing up the rock and then going down the slide. The sun was in a bad position so I was only able to get a picture of Calvin climbing up.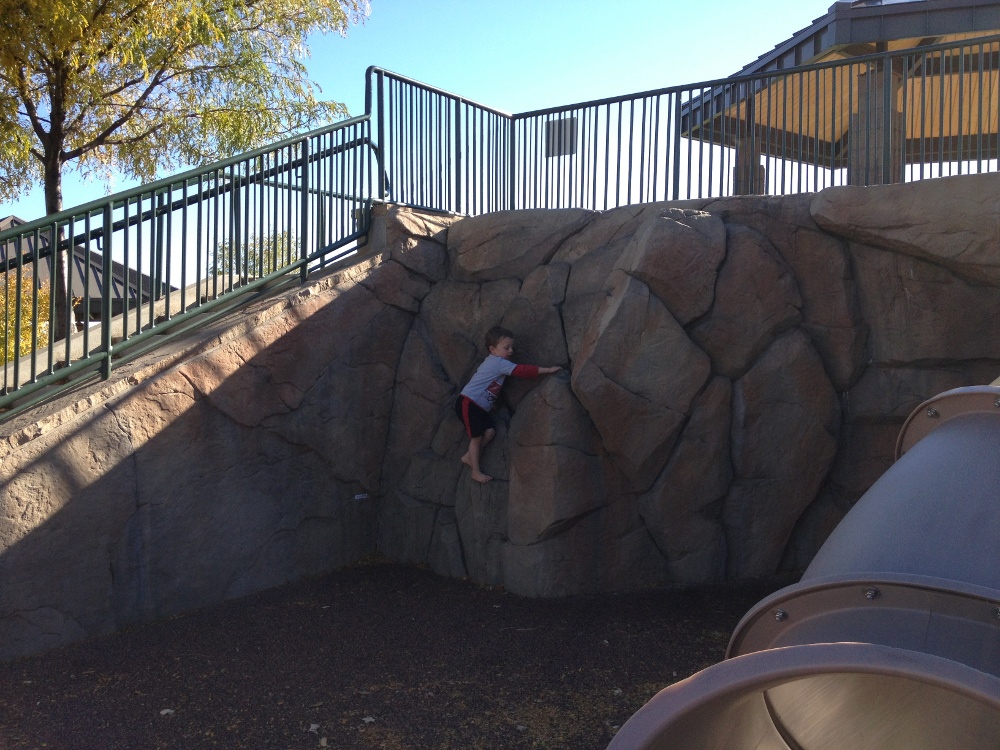 It's a nice playground and fairly close to Calvin's preschool so I expect we'll visit this one again.
Summary:
Features
5-12 year old equipment, covered slide, bridges, track ride, periscope panel, gear panel, spelling panel, chimney climber, corkscrew climber, wavy web climber, vertical climbers, sky rail climber, small climbing wall, climbing cables with orbs, "playshell" seat, "rocking tube", twisted ladder, small rock climbing wall, swings, bucket swings, molder plastic bucket swing
Surface Material
Poured Rubber
Restrooms
Yes!
Water fountain
Not sure
Shade
There are quite a few shaded picnic shelters.
Picnic area
Yes, quite a few. Some are available for renting.
Parking
Good sized parking lot
Pros

Good variety of equipment
Provides both traditional and modern playground eqipment
Restrooms!

Cons

No sand but you can't have everything.

View Random Parks and Playgrounds in a larger map
After looking it up, it was apparently suppose to be an hourglass panel except there was no sand. ↩