Well . . . the weather report misled us. It said today was suppose to be sunny and 60 degrees. It actually was cloudy and in the 30s with a couple snowflakes drifting down. However, I told Calvin we would go to a park today so we went to the park after Sabbath School. This time we went to Wonderland Lake Park which was almost on the way home.
Getting there turned out to be more confusing than I expected. I had looked briefly at the map but my phone's battery was dying and I wanted to save it for pictures so I didn't use it for directions. I missed the turn the first time but eventually figured out that from Broadway I needed to turn west onto Poplar. It's a "neighborhood" park which I think means there is no parking lot. We parked on Poplar street between Quince Cir and Quail Cir.
The park itself is beautifully situated. Wonderlake is fairly close and there are hills in the background.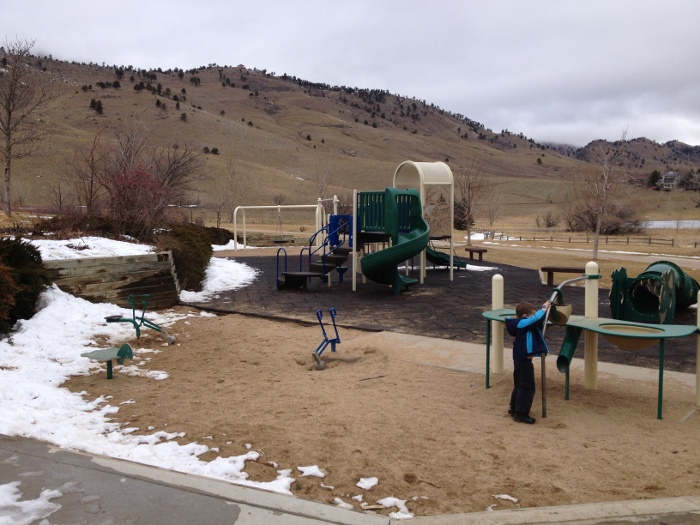 There's a nice sand area with an elevated sand table and two diggers. One digger has a seat and the other one doesn't so it can be used standing up or by someone in a wheelchair. Unfortunately, the snow had melted into the sand and frozen it into one hard mass so it was hard to do much digging.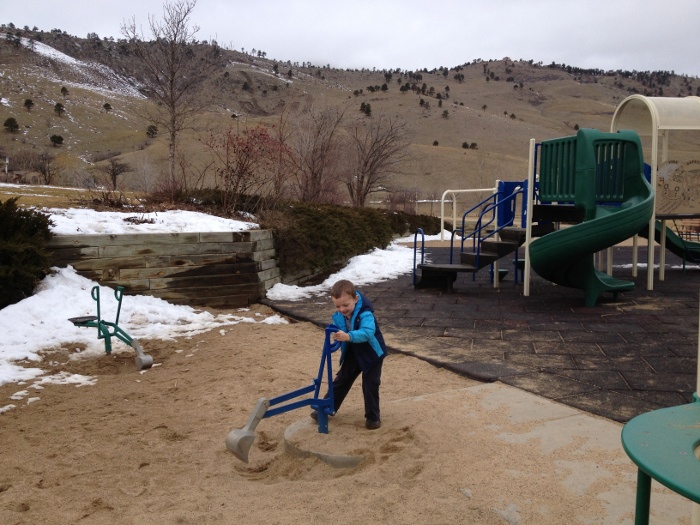 An informational sign at the park says the park was designed for ages 2-5. Though, most of the equipment seemed a bit "old" to officially be for 2-5 year olds. However, they did have an interesting caterpillar tunnel as well as a little covered house.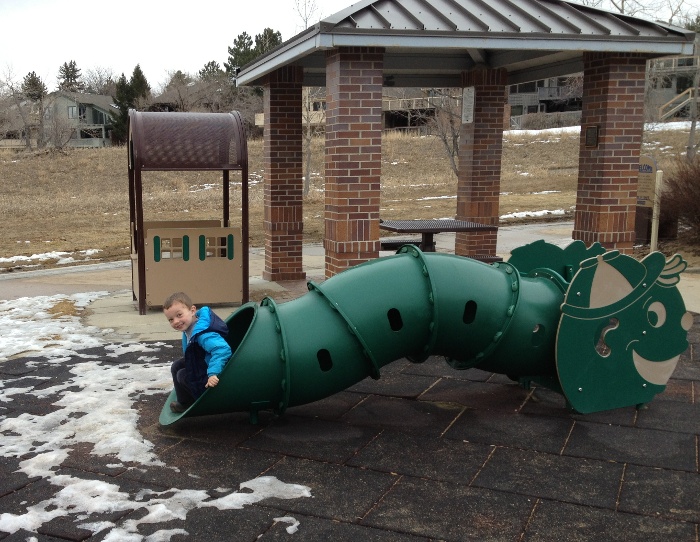 The main play structure is probably officially rated for 5-12 year olds but probably interests younger kids more. It's a traditional style but looks fairly new.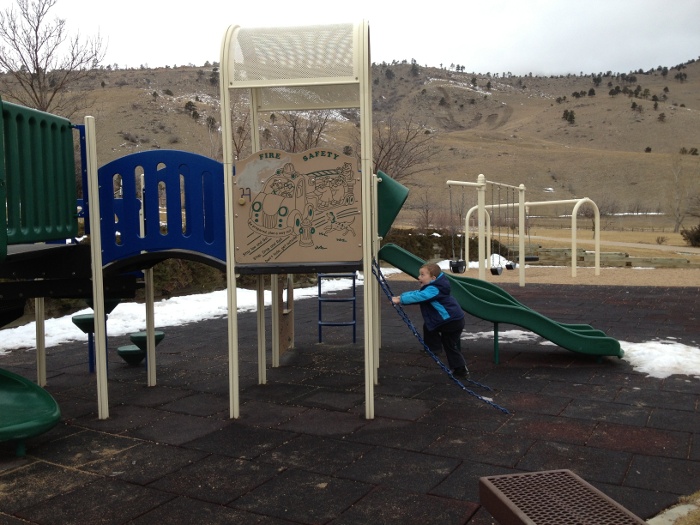 One of the panels was a double steering wheel.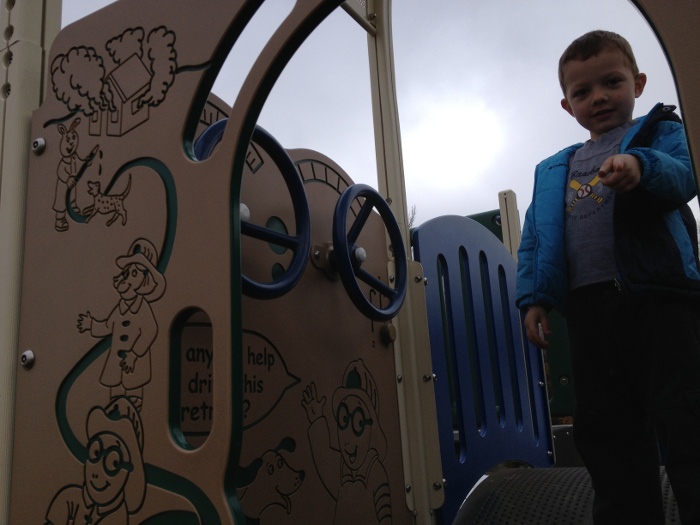 They also had a periscope panel and Calvin pretended he was on a submarine.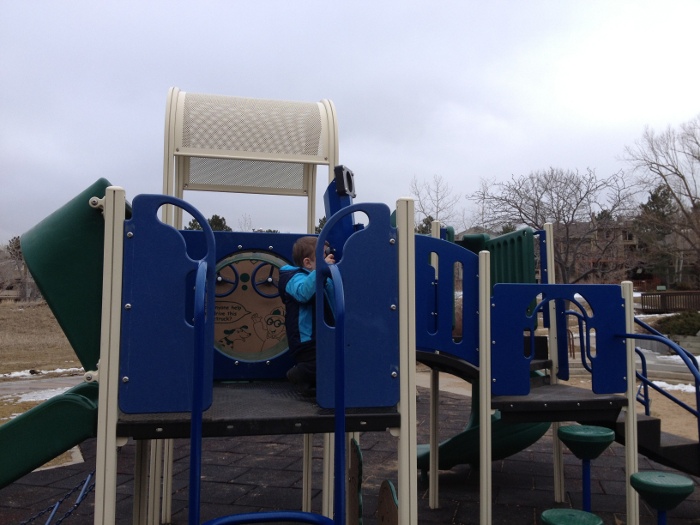 Like Harlow Platts Park, they had a tire swing. I was expecting I would have to push him a lot. However, after the picture below, when the tire swing was practically motionless, Calvin fell off, bumped his head and didn't want to get on after that. I'm not sure how he fell off, I was zipping my coat up and missed it. However, it seems weird he fell off this swing when I was spinning him very fast on the other without any problems. Perhaps he got overconfident.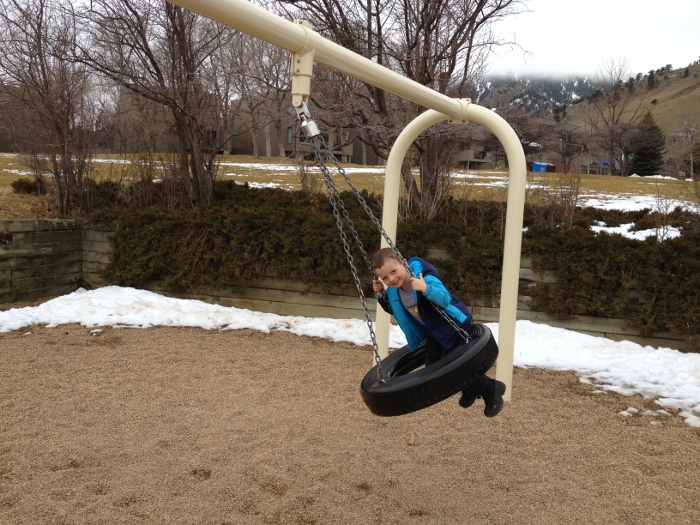 We didn't stay very long at this park. It's a nice park but the weather was chilly. However, before we left Calvin managed to make some sand dunes (plural, he got upset when it was implied it was only one sand dune). If you look closely at the picture you'll see a rock on top. That is Calvin. Next to it is a stick. That is Jaeger.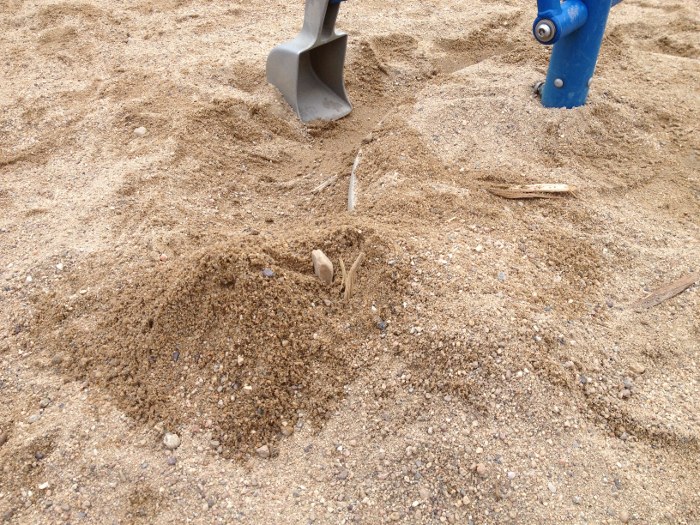 Summary:
Features
5-12 year old equipment, spiral slide, periscope panel, steering wheel panel, caterpillar tunnel, sand area, accessible digger, digger, elevated sand table, small playhouse, swings, bucket swing, tire swing, straight slide
Surface Material
Mostly rubber squares. Sand in the sand area and pea gravel by the tire swing.
Restrooms
No
Water fountain
No
Shade
Small shaded structure with a picic table.
Picnic area
A small picnic table
Parking
Streets parking and then a short walk
Pros

Very scenic area.
Neighborhood park so it's not going to be over-run with people
Nice variety of equipment
Good sand equipment

Cons

View Random Parks and Playgrounds in a larger map