There are many ways to organize books. Each house I live in I organize them slightly differently. However, usually there's at least one "featured" shelf, a general fiction shelf, a non-fiction shelf, and a kid's shelf. This time we have a built-in bookcase in the living room which I put all our Hugo award nominees and winners (as well as the "not-a-Hugo" awards given out in the same ceremony)1.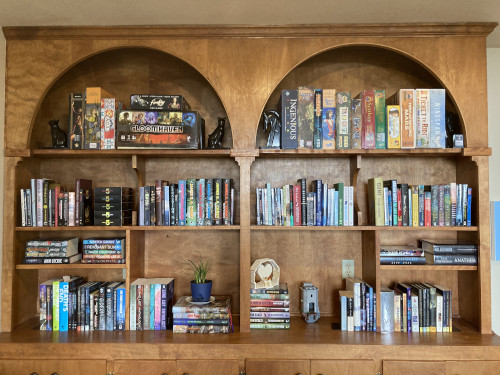 Also in the living room are our three very cheap bookshelves which have survived being moved five times so far. You can see the shelves are starting to bend and we daren't put our computer science books on it anymore. I have kid books on the bottom three shelves, so Julian can reach them, and some of our adult non-fiction (mainly travel and history) on the top two shelves.

In our entry way we have most of our fiction books. I don't want to buy more bookcases until we find a permanent house and I know what will fit. However, space is getting really tight so I'm having to get creative with how I can fit all the books while also allowing (some) room for growth. That's while some of the series are stacked vertically. I've also started interfiling the few DVDs we have, mainly because I don't have a better place to put them.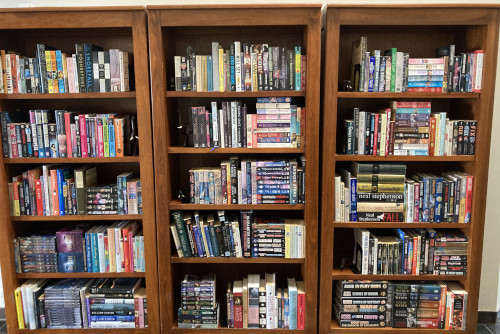 In our Wallingford house I had a bookshelf in Julian's room that contained his favorite books. The downstairs "playroom" had a lot of built-in shelves that I used for overflow picture books, juvenile books, YA, and travel. Without those built-ins, I don't have enough space for all of Julian's books in the house. I have one large shelf in his room that contains the read-aloud chapter books he likes, old board books he still enjoys looking at, easy readers, library books, and about half of his picture books.
The house we're renting comes with a detached garage that has a second unfinished level. I thought it'd make a good play area so I set up our smaller tent with a rug, blankets, pillows, and a bin with the other half of Julian's picture books. Julian enjoys reading in the tent, it makes things feel more adventurous.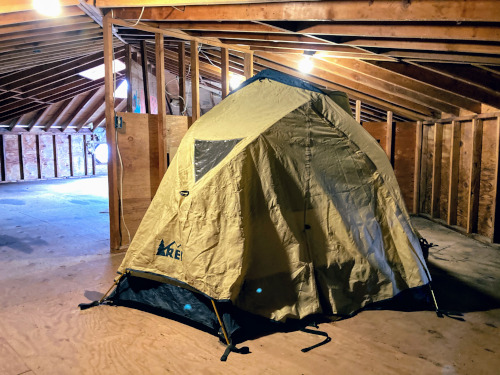 (In case you're wondering why the rain fly is on the tent, it's to protect the books and blankets. The garage has bats and isn't 100% weather-proof.)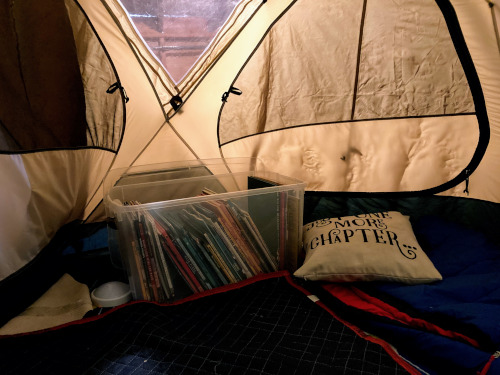 Most of our technical non-fiction books are in our bedroom in Jaeger's sturdy double oak bookshelf. Calvin has some books in his room but not a lot. He's currently more an audiobook listener than a physical book reader. I have a couple of shelves of cookbooks in the kitchen and then various other books scattered around the house.
If one book in the series won, I put the whole series on the shelf. ↩