Boulder has a library problem. Truthfully, I probably shouldn't complain too much but it really irks me the city hasn't managed to build a library anywhere north of Mapleton 1. I keep meaning to write the city and library to complain but every letter I've written so far sounds completely overwrought. The good news is I'm privileged enough to a) ferry my son to libraries that aren't near us and b) buy him gobs of books. So at least my son isn't being deprived of books.
What I really miss is a convenient place to take Calvin when he is driving me nuts. The Longmont Public Library was so close to our old house we could just wander over on a whim. I tried our local Barnes and Noble for a bit but it didn't work out. It seems fair that I buy a book or two to pay for using them. So, if Calvin had become enamored with books there, I might have gone more often. However, they're also a toy shop these days and I was not impressed by the whining Calvin engaged in when he wanted me to buy Thomas the Train paraphernalia. When I take Calvin to the library, there's no commercial aspect so the only whining I hear is when I tell him it's time to leave.
During one of my attempts to write a calm and reasoned letter to city council, I search the Daily Camera to double check they hadn't decided to build a library in northern Boulder while I wasn't looking. They hadn't. However, I did find a post about the NoBo Art District supporting little libraries. I decided to take a field trip and check out the two little libraries in North Boulder2.
The first little library Calvin and I visited was the Reading In Spires sculpture located at 14th Street and Yellow Pine Avenue. This is also the location of Holiday Park, which I believe is a HOA supported community park. Many Little Free Libraries look like little houses or school buildings. However, the NoBo Little Libraries are much more whimsical.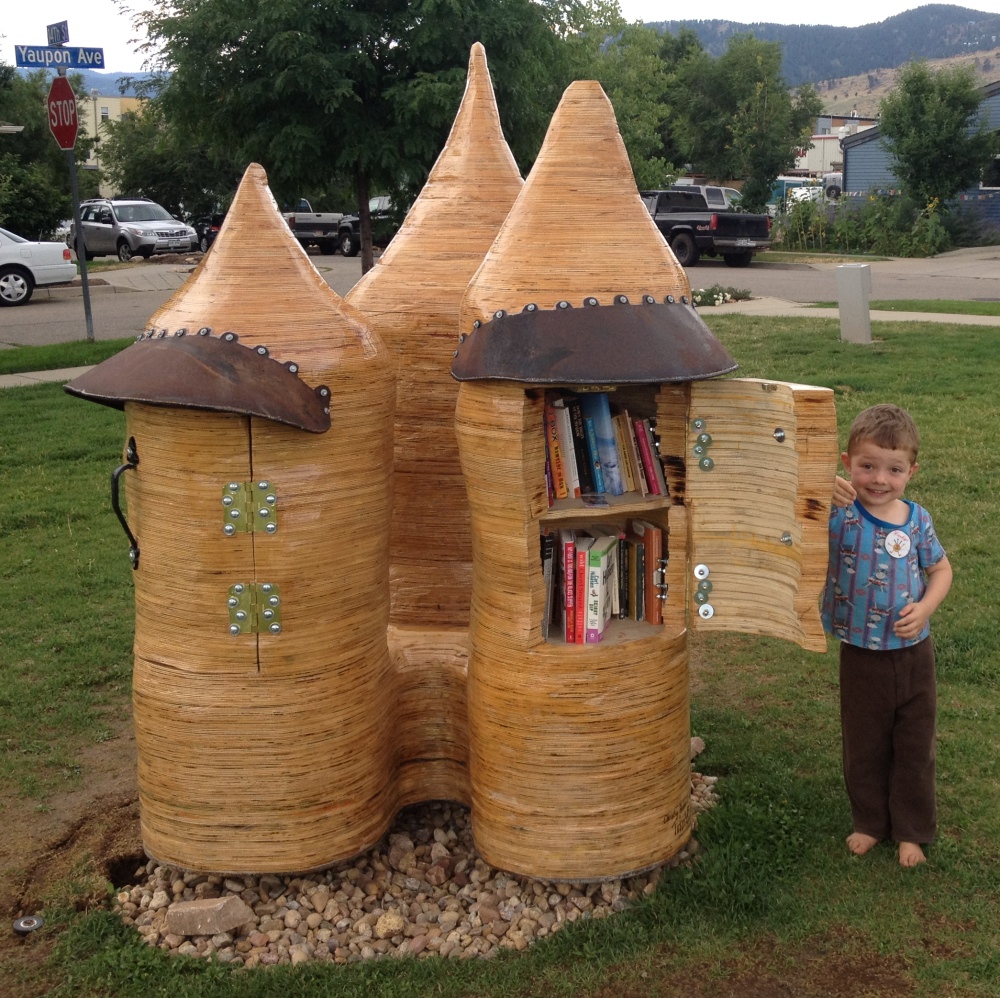 As you can see, there are three spires and each spire has a door with shelving inside for books.
Unfortunately, there weren't many children's books available so Calvin wasn't really interested in it once the novelty wore off. He was much more interested in the park equipment.
I let Calvin play on the Holiday Park playground equipment for a while and then we went off in search of the second Little Library. This one was harder to find. The NoBo Art website said it was " installed on the plaza adjacent to Lucky's Market at 3960 Broadway in Boulder, Colorado." Having never been to Lucky's Market before, Calvin and I wandered around for a bit mystified till we finally found it on the eastern side of the store.
This Little Library is titled The Rocket Man.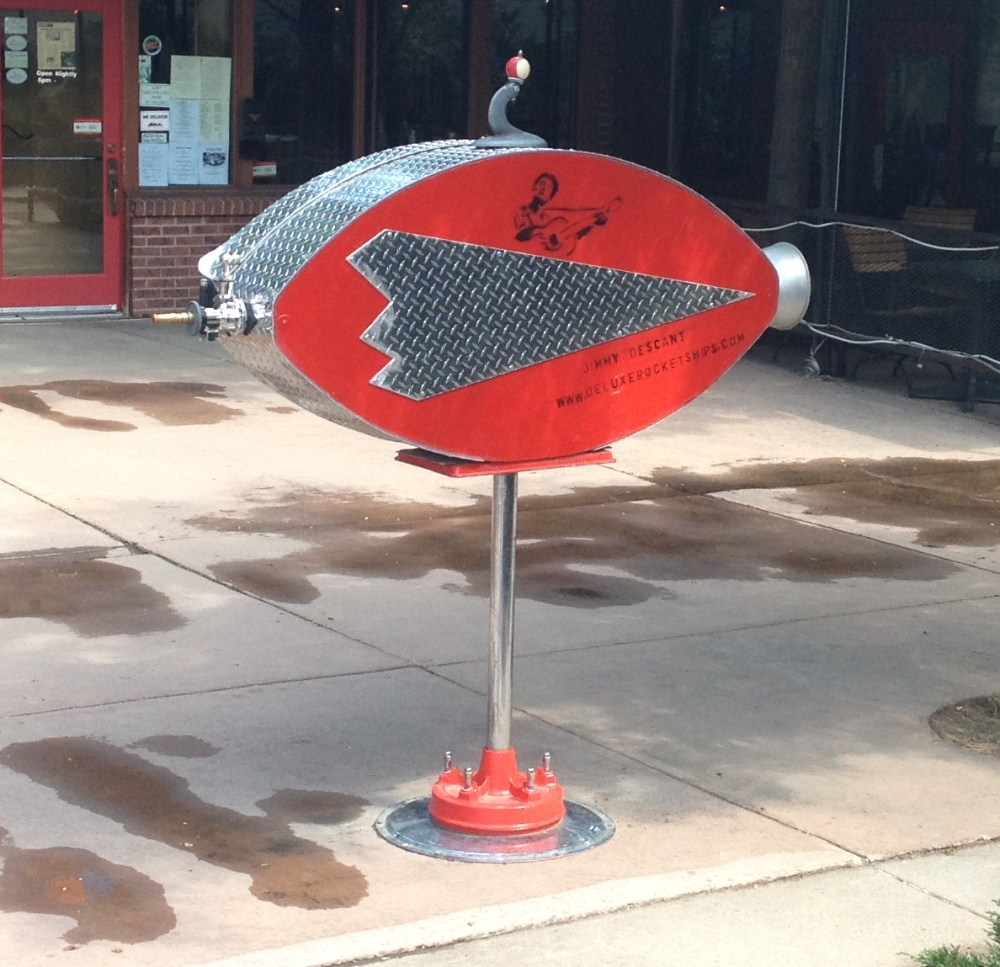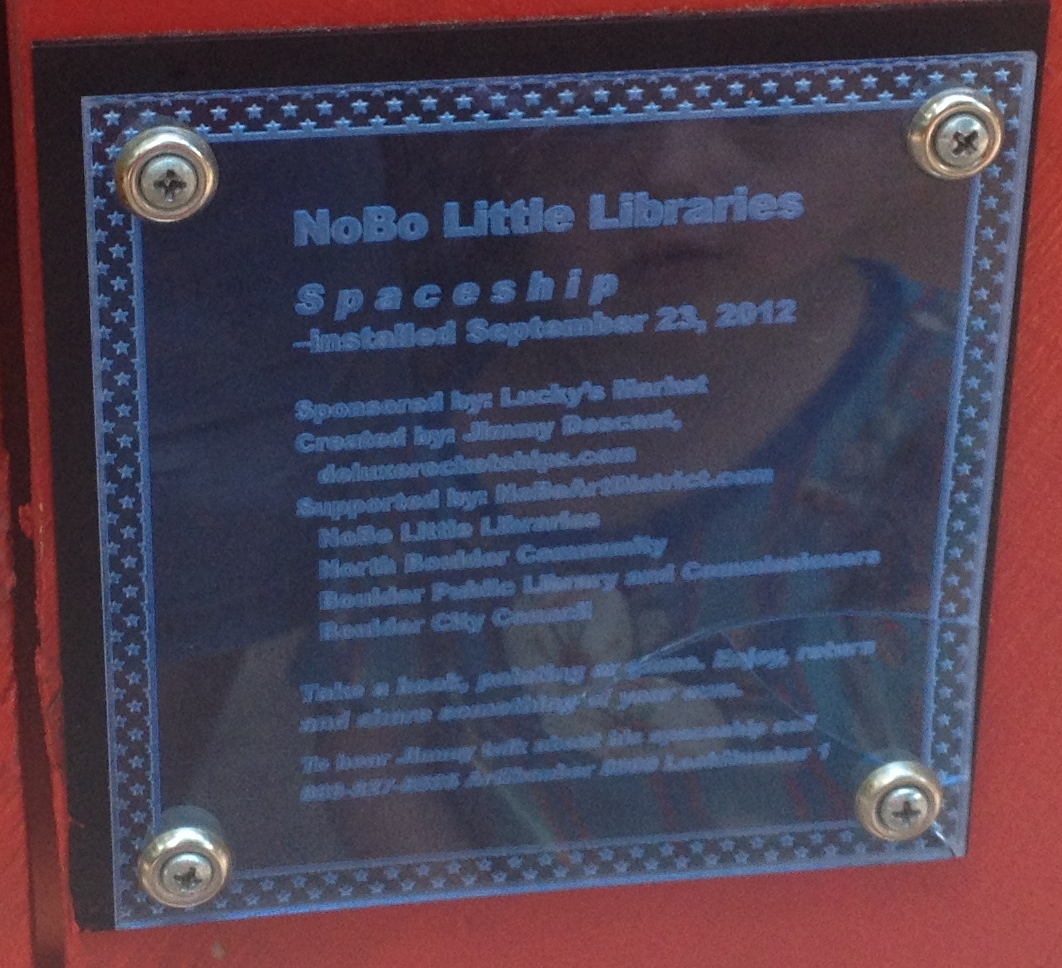 Calvin seemed to like this one better both because it was a rocket but also it contained a fair number of children's books.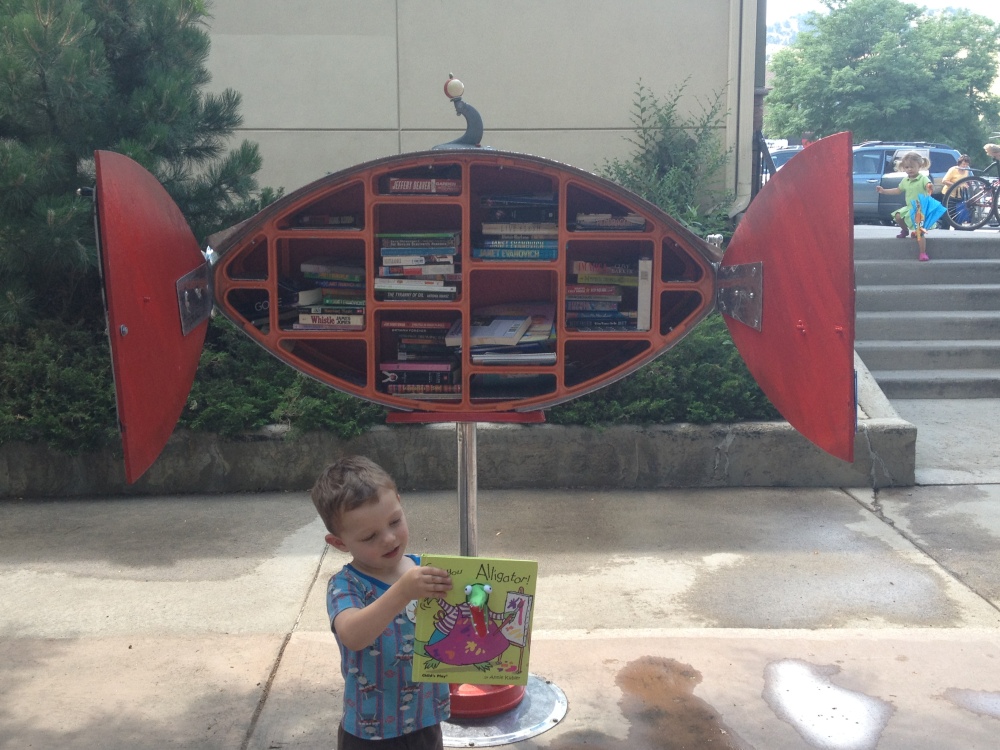 I feel slightly torn about these little libraries. On one hand, it never hurts to have more ways to get books. However, they're never go to have the breadth of a full-size library. When Calvin and I go to the library we walk out with stacks and stacks of books. That's not something you can do with a little library. The little libraries are cute but the northern Boulder areas still needs a real library.
I use to say north of Canyon but technically the local history library branch is on Pine so that's not quite accurate. ↩
For those unfamiliar with Boulder, I live in Gunbarrel, which is in the northeastern part of Boulder but is not considered "North Boulder." Gunbarrel and North Boulder are separated by a fairly wide swath of non-thru roads. ↩