October has been unnaturally warm. It's almost the end of October and today was sunny and almost 80 degrees. On the weekends Calvin has a tendency to get stuck in the family room playing with Legos all day. I love Legos but I also think that outside time is important. So I decided it was time to go and explore a couple of parks.
We first went to Salberg Park. Calvin and I have been to this park before but it was in the pre-photographing of park era. It's a nice park with restrooms! (Though it appears the restrooms may only be open in summer as they were locked today).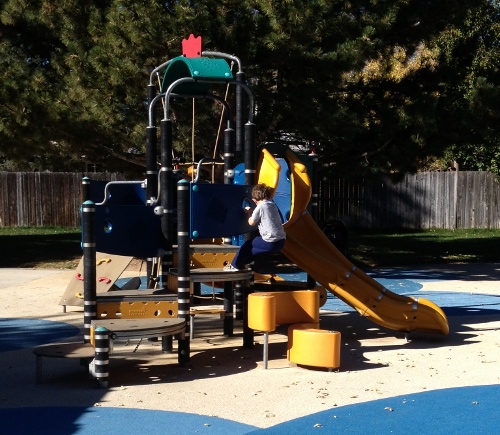 The park has a nice-sized traditional playground structure. It's mainly designed for "older" kids but does have several things underneath for younger kids. An example is a little bucket swing.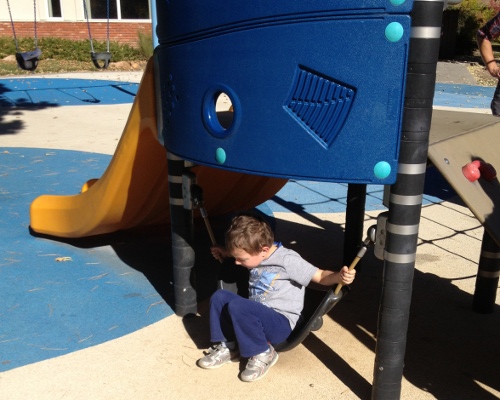 Calvin enjoyed climbing across the rope wall.
The playground also has two regular swings and two bucket swings for babies. (Calvin hasn't learned how to swing himself yet so I don't have any pictures of them). I had forgotten that Salberg park has a very nice sand area. I should have brought our sand toys. Even so, Calvin was able to amuse himself with the built-in sand equipment: two regular diggers, a wheelchair accessible digger, and an elevated sand table.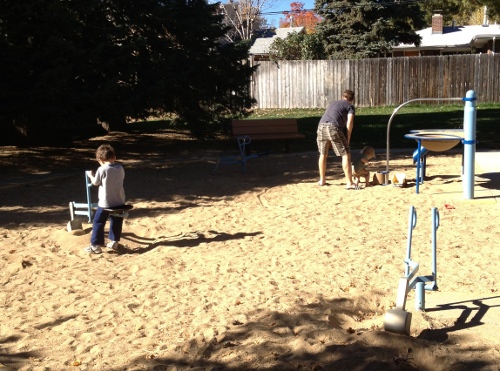 As always, Calvin enjoys climbing on the rocks.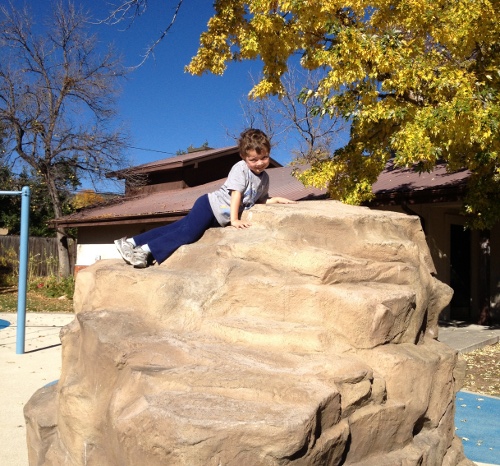 I think the playground might have been upgraded since I was there last. It has two structures that I don't remember. The first is some equipment that I believe is suppose to mimic a sailboat (note it's also surrounded by blue poured rubber). The entire structure can be rotated, with some effort.
The other structure provides more climbing opportunities.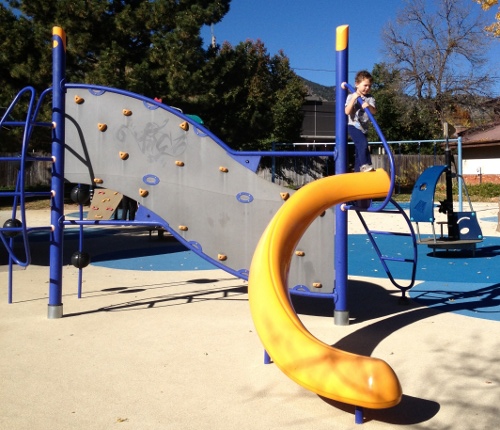 Summary:
Features
Small double slide, curved slide, swings, bucket swings, mini-swing, rope wall, sand diggers, accessible sand digger, elevated sand table, stylized sailboat structure, climbing wall
Surface Material
Poured Rubber and some sand
Restrooms
Yes (possibly only open for summer)
Water fountain
Didn't see one but seems like there should be one by the restrooms
Shade
Yes, there's quite a bit of shade provided by a picnic structure and mature trees.
Picnic area
Yes, one covered picnic area and additional nearby picnic tables.
Parking
Dedicated parking lot
Pros

Good equipment
Easy to park
Sand!

Cons

View Random Parks and Playgrounds in a larger map