After Salberg Park I decided to drop by Columbine Park which was just a few blocks away. Earlier in the morning when I was trying to decide where to go I stumbled across a Boulder City post about their Top 10 Nature Play Parks. Columbine Park was on the list but I wasn't sure if it was going to be large enough to amuse Calvin for more than a couple of minutes.
Columbine Park was a very pleasant surprise. It doesn't have any traditional playground structures but still had enough elements to keep Calvin amused. The first thing he did was run over to the "OmniSpin Spinner" which appears to be a modern equivalent of a merry-go-round. It's definitely a cut above most modern merry-go-rounds but I found it difficult to get up to a nice speed (being pregnant probably doesn't help). Even though it goes slower, it's pretty comfortable to sit in. I relaxed in it for a bit and let Calvin (briefly) spin me.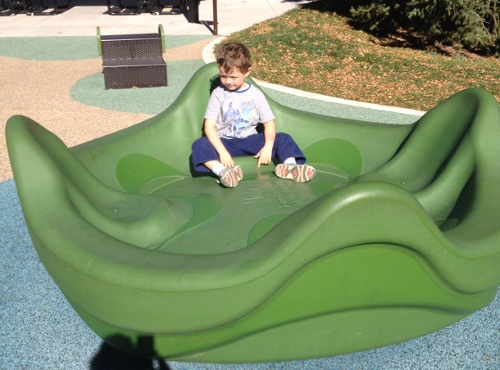 Next up, Calvin climbed aboard the "Oodle Swing" (at least, I think it's an Oodle swing, definitely similar if it's not that exactly). Add some pillows and I think it'd make a nice hammock-like swing for a kid to read in.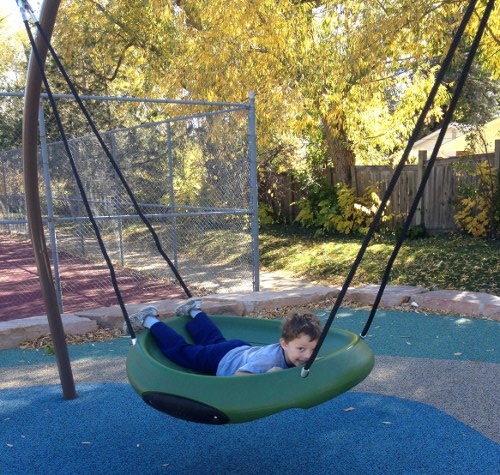 The playground also have several rocks with rope ladders to climb up.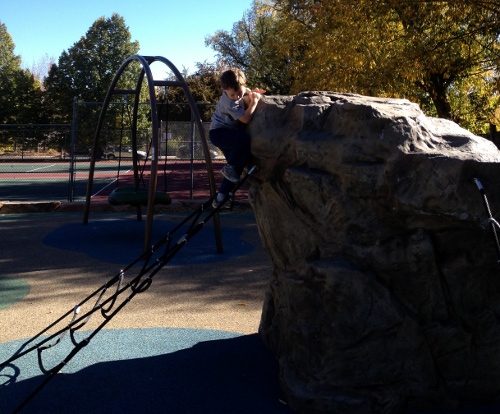 A unique feature of this park is its extended balance path consisting of pretend tree stumps, rocks, log balance beams, and log tunnels. Calvin enjoyed running back and forth on them.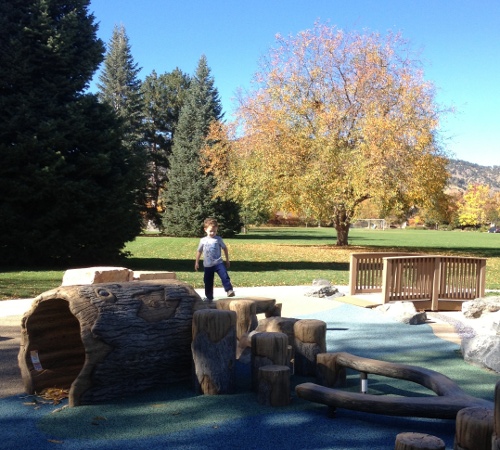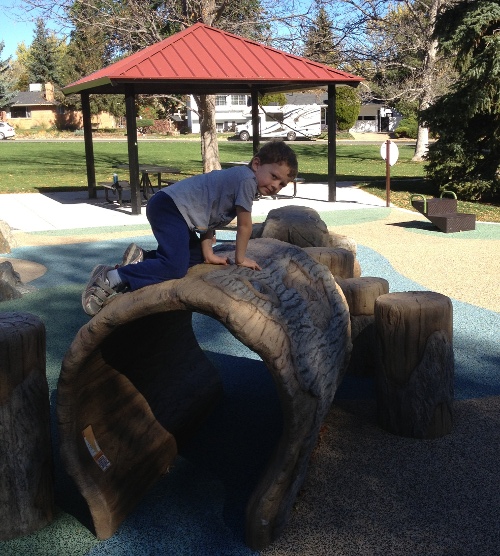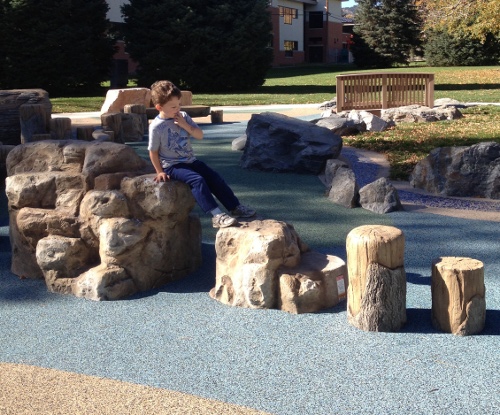 The park also had a fake "stream" wandering around one edge of the playground area with rocks providing more balance options.
The final feature of the park is a tree. Normally, I just mention the man-made structures. However, this was a perfect playground tree. Its branches hang low enough to the ground that children ducking under toward the trunk are nicely hidden. Plus, the branches are low enough to the ground that children can climb up the (sap-leaking) tree. This is probably not an officially approved activity but I liked Calvin have the opportunity to climb on something actually natural, not just nature-imitating. Calvin didn't go up more than a couple of branches but enjoyed that bit of climbing up by himself.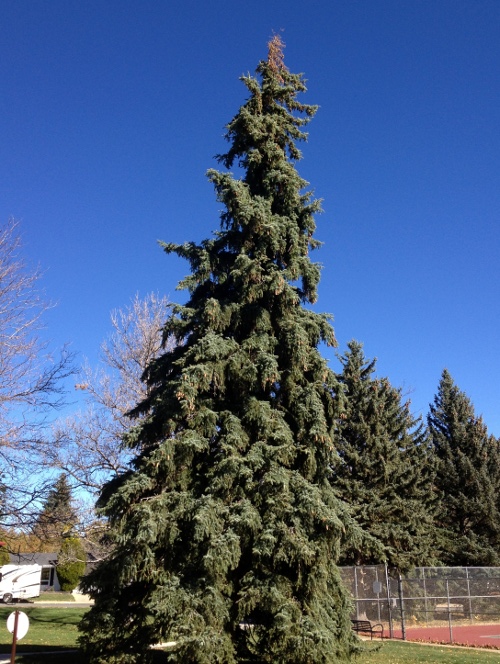 I was amused to see a sign indicating the playground was designed for ages 5-12. I know they have to do this for safety reasons but there was a lot that younger kids could get from this park. I think it's one we might go back and visit once 2.1 is born.
Summary:
Features
Multi-person swing, merry-go-round substitute, lots of balancing elements, several rocks/ropes to climb, good climbing tree
Surface Material
Poured Rubber
Restrooms
No (though there's an elementary school behind the park that might be available if you get desperate)
Water fountain
Yes, it was even turned on
Shade
Yes, there's quite a bit of shade provided by a picnic structure and mature trees.
Picnic area
Yes, one covered picnic area with a couple of tables, including wheelchair friendly tables.
Parking
Fairly convenient street parking
Pros

Lots of balancing options
Merry-go-round-like equipment
Good climbing tree
Interesting multi-person swing

Cons

No traditional playground equipment, may bore some kids?
No restrooms

View Random Parks and Playgrounds in a larger map