Many months ago Jaeger's mom offered to take the kids for two weeks in July. I had the foresight to request a week of vacation off. I had no plan, it just seemed like I should take advantage of the kids being gone.
Toward the beginning of July I started trying to figure out what I wanted to do on vacation. Part of the problem was I wanted a very relaxing vacation and Jaeger, I believe, wanted an interesting vacation. This disconnect in what we wanted in a vacation proved to be a problem until I stumbled across some last-minute cruise fares and came up with the brilliant idea of going on a cruise. I've never been on a cruise before but it seemed like it could work. I could lounge around in the cruise ship and Jaeger could go off on daring expeditions. Jaeger was not excited with this plan. However, I had sold myself on the concept of lounging on a cruise ship with no responsibilities. So, after some back and forth discussion with Jaeger, I decided to go on my own and booked a cruise on Holland America's Oosterdam ship to Alaska1. The ship both departed and returned to Seattle so it avoided the complication of having to fly or drive to another location.
While going on a cruise sounded like a grand adventure, it also was intimidating because I've never done anything like it before. I approached departure day with a mixture of glee and trepidation. As instructed, I checked-in online more than 72 hours before the trip. Naturally, there were issues retrieving my booking because of my hyphenated last name. Turns out I needed to leave the hyphen out of my name and replace it with a space. However, once I figured out the hyphen issue the rest was pretty easy. Having only done flight luggage tags before, I wasn't sure how printing luggage tags at home would work. For the cruise I printed out the luggage tags on a standard piece of paper, followed the folding directions, and then stapled it around my suitcase handle.
---
Sunday morning Jaeger and I slept in and then had brunch. I puttered around the house doing last minute packing and a couple small chores such as watering the front yard and the edibles on the living room deck
2
. Finally, it was time for me to leave.
Saturday I had looked up Port 91 and determined that I should be able to get there via city bus. Jaeger thought it was bizarre I would take a bus to a cruise ship. However, I had time and it avoided the awkwardness of talking to a Lyft driver. While waiting at my bus stop I ran into a woman who looked at my suitcase tag and said, "Oh! you're going on a cruise!" Which provided a conversation topic while we waited for the bus. She had been on a cruise once before and said she was glad she had the experience but probably wouldn't do it again. However, she did really enjoy Sitka, also a place my cruise stops at. Among other things, she mentioned it has a really nice thrift store which was not mentioned in the tour book I had gotten.
I had virtually run through the walking route on Google Maps and it looked very feasible. I was a little worried about the overpass, because my suitcase was very heavy 3 and I wasn't looking forward to hauling it up stairs. However, I lucked out and it was a ramp up to the overpass instead of stairs.
I followed the signs to the passenger terminal and entered the building. I had to show my passport, mainly to prove I had one, and then was waived through to drop off my luggage. I had been emailed instructions saying that people with staterooms on the first floor should checkin at 2:30. I had budgeted to arrive a bit early, in case the bus was late, and was surprised to see there was no line. 2:30 was the very last slot so I don't know if everyone else ignored the instructions and came early or if it was just spaced apart really well. Regardless, after I dropped off my luggage I went through the check-in process where they confirmed my passport, boarding pass, and took a picture to give me my room key. That done, I boarded the ship.
Have I mentioned I've never been on a cruise before? I entered the ship but wasn't quite sure what I should do next. I just kind of milled around the entry for a bit while I tried to come up with a plan. Everyone had been very clear that my luggage was going to take a while to get to my room so I should put anything I might want for the next couple of hours in my carry-on bag. My bag was fairly heavy so I decided to find my stateroom and then go on a self-guided ship tour4. I got to my room and was surprised to see a completely unobstructed view, I'm sure the booking said I was getting an obstructed view.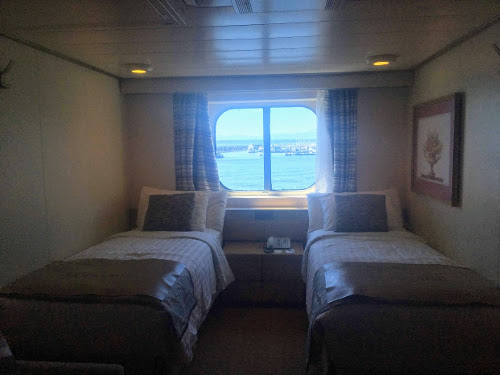 The room wasn't large but more than adequate for one to two people. I think this particular room is suppose to be able to handle up to 4 people and that might be a bit cozy.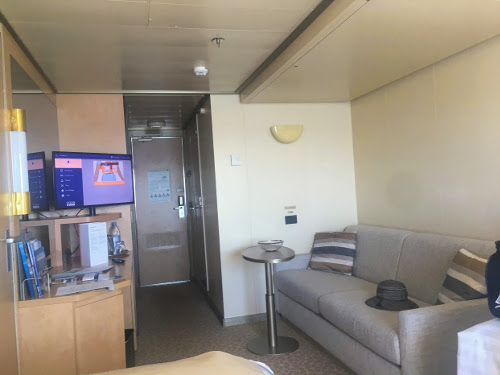 As I was acclimating myself to my room a ship-wide announcement went off saying that they were going to perform the mandatory safety drill in 20 minutes. Instead of setting off to tour the ship immediately, I decided I would stay in my room and get settled as much as I could without my luggage. Of course, the first thing I did was activate my internet5. The internet worked fine. Though, I did discover it only allowed one device to be connected at a time. A little awkward for me, having three internet enabled devices, but it wouldn't have worked with a second person at all. Well, unless we were willing to take turns sharing.
About the time I figured out the internet, they started the emergency drill. The speaker in the room told us what we would normally do if there was an emergency and then made some specific exceptions for the drill (mainly, they didn't want us to put on the life jackets). We then had to find our muster stations and get checked in to prove we'd been there. We had to wait around for a bit, but less time than I expected, and then got to go back to our rooms.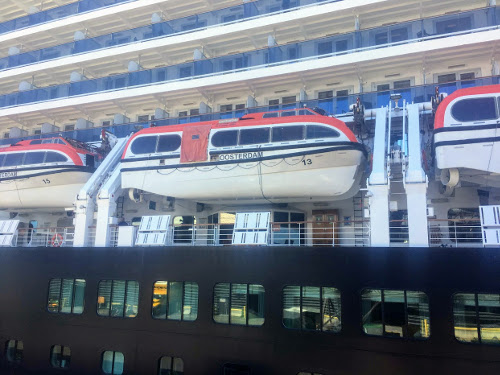 My luggage had arrived by the time I got back to my room. I started putting clothes away but the ship started moving right at 4 and I decided I should leave unpacking for later and go on my ship tour. I took the stairs6 to the top and started working my way down.
I had worn a skirt today because it was really hot in Seattle and I don't have enough shorts for hot weather. This was a little awkward with the wind of the deck, which I had been half afraid of. However, the wind did make the temperature a lot more bearable. Deck 10 has the observation deck and what remains of the library. There were quite a few books about Alaska but not much fiction that would interest me. They did have a section for paperback exchange that had some books but not a lot and none that looked interesting to me. I had visions of populating it with my favorite authors. Possibly I'll visit the Sitka thrift store and see if any of my favorites are available.
I stopped by the dining hall to figure out how that worked since I ended up with open seating instead of a set seating time. They told me I could just show up. I asked about the vegetarian menu, which Jaeger's mom had told me about, and they said there wasn't one available for this evening but I could order for tomorrow night if I wished. I was hoping I would be able to order via the app but it turns out one has to call7. So, I'll probably just end up eating the vegetarian options on the main menu.
When I got back to my room I finished unpacking. I had brought hangers, because I wasn't sure how many, or what kind, they had. However, their hangers were sufficient. There's also a clothes line in the bathroom that allows you to hang your bathing suits on. Next to the sink is a medicine cabinet mirror that has a good amount of storage in it. I found a place for all my stuff and then pushed the suitcase under the bed, out of the way.
I was hungry, and it was just a little bit after 5, so I decided to go back to the dining room. I was quite nervous about this part, not sure of what to expect, particularly since I was alone. They asked me if I was fine sitting with other people and I said yes. I ended up sitting with a group of 4 other people: one from Oklahoma, one from Arizona (a mother and her daughter I later learned), and two from Oregon. The conversation went surprisingly well. Not too awkward. For food, I got a quinoa and pomegranate appetizer which was fantastic. The main entry and dessert wasn't as exciting but still good.
After we finished I decided it was time to get some exercise. I changed into exercise clothes and then walked 2 miles (6 laps around the deck). Then, I finished up with some core exercises in my room. Finally, to end the day, I grabbed This is How You Lose the Time War, by Amal El-Mohtar and Max Gladstone, and found a comfy chair next to a window.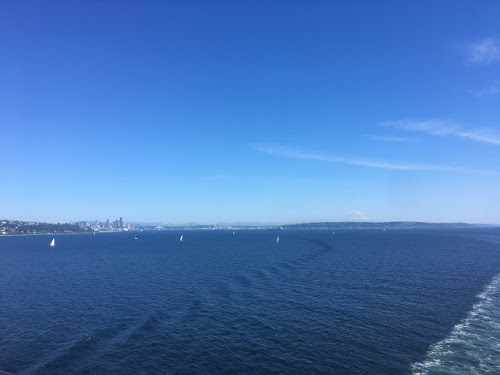 I'm not sure yet what I'll try for tomorrow. I'm struggling with finding a balance between everything I could do and making sure I'm actually relaxing. So, we'll see.