I first heard about Mastodon in 2017. Yanthor was also intrigued and he got me to take the next step and actually join octodon.social, a Mastodon instance. I stayed on Octodon for a bit but wandering.shop had more people talking about books so I eventually migrated to that instance because I found the local timeline more interesting. I don't post a lot, particularly compared to others, but I've been a regular user since November 2017 and I have seen many people come and go over the years.
As I mentioned on Twitter, I'm slowly edging away from my account there. However, I don't use my wandering.shop account in the same way I used my Twitter account. I do post life updates on wandering.shop but what I really love to talk about in that space is books, usually science fiction or fantasy. After some thinking, I've decided to use my old Octodon account as a general Twitter replacement.
If you are interested, there are a couple of different ways you can see what I'm posting on my Octodon account:
The easiest option is to just go to my public timeline whenever you think about it. This is probably the easiest approach.
If you want to get slightly fancier, you can also get an RSS feed of my local timeline. This is probably not a good option unless you already use an RSS reader for other things.
If you want to be extra special fancy, you can get your own Mastodon account.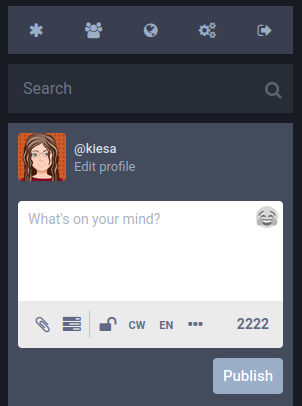 General Mastodon
If you've never been on a Mastodon instance before, I imagine there's a lot of terms in my prior paragraphs that doesn't make sense. A Brief Mastodon Guide for Social Media Worriers is a good introduction for beginners. However, below is a summary of some of the details I think are pertinent.
Unlike Twitter, there is no one Mastodon. Instead, there are lots of Instances which know how to talk to each other. Many people explain this as being similar to email. Gmail users can email Yahoo users who can email Outlook users. However, unlike email, the community and culture of specific Mastodon instance can vary widely and is often based on specific shared interest. For example, code4lib.social tends to be a place for techie librarians/information professionals while mastodon.art people post a lot of art. Most of these instances have some sort of rules they require accounts to follow, for example here are mastodon.art's rules.
If you use a Mastodon instance similar to how you use Twitter, your instance doesn't matter as much as long as you stick to your instance's rules. However, one fun thing Mastodon has is local timelines.

This is where you can go and see what everyone else is publicly talking about on your instance. This is also why it's particularly fun to find an instance centered around topics you find interesting. However, it's pretty easy to move instances so it's fine to start with a larger one like mastodon.social until you find a more interesting one1. It's much easier to move instances than it is to change email addresses.
Content Warnings
Mastodon etiquette will vary from instance to instance. However, it's generally considered good manners to use content warnings when you suspect someone may be bothered or annoyed by a topic. Common topics to content warn include things like politics, traumatic events, graphic pictures, mental health, etc. However, the specifics do depend a little bit on your instance and the other people you follow. For example, food is often content warned on my instance and often they'll explicitly content warn if it's non-veg. If you go look at your local timeline, you can often get a feel for what people content warn and what they don't.



You can also use content warnings to discuss spoilers which allows people to enjoy book/movie discussions without accidentally learning major plot points ahead of time.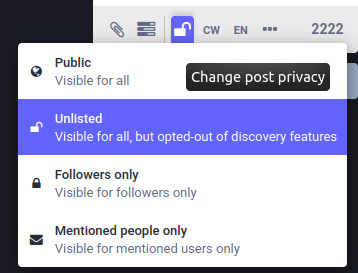 I also use content warnings when I'm talking about things that don't really fall into the general interests of my instance (such as parenting or kids). However, I just realized that's probably not the right way to do it. I probably should have also been using the "unlisted" feature where my followers can see what I'm talking about but it doesn't appear in the local timeline. I've been using Mastodon for five years and am still learning new things.
While I use content warnings heavily at wandering.shop, I'm planning to use them much less frequently with my Octodon account. Instead, I'm going to try keeping my posts primarily unlisted so they don't ambush people in the local timeline. My thought is that keeping things without content warnings will probably be easier for the family member who just wants to see updates without a lot of clicking. This is an experiment so we'll see how it goes.
Alt Text
The other thing that is strongly encouraged is to provide alt text for any images you post. There are a fair number of users that use screen readers and they really appreciate alt text being added. Here's a good guide on entering helpful alt text.
Mastodon App
When using a desktop, it's really easy to load and use Mastodon in a browser window. Personally, I suggest enabling the "advanced web interface" view. However, there are various apps available for use on mobile devices. Since my transition back to Android, I've been using the "official" Mastodon app. Which, it turns out has quite a few limitations. I just started using Tusky which lets me post unlisted and also allows me to easily see the local timeline.
Hashtags
Mastodon doesn't allow searching on your posts unless you hashtag them. If you want to be found by people with common interests, hashtag your posts. If you don't want to be found, don't hashtag topics. When Elon Musk first threatened to buy Twitter we had a lot of new users. I did an introduction post and listed my general interests. All of a sudden, my timeline got much busier than I wanted. This time, I'm keeping quiet and not hashtagging anything. I'll probably start hashtagging more once things get quieter again.
Support
If you end up sticking around, and can afford it, make a small contribution to help support your instance. Most instances have a way to give money, such as a Patreon account.
Mastodon is made up of flawed humans
Some people come to Mastodon expecting utopia. However, Mastodon is far from perfect and it has many of the same problems that Twitter does. Unfortunately, people get harassed on Mastodon instances just like they do at Twitter. However, your instance has more control over what it allows through and so moderation is sometimes better on Mastodon (and sometimes worse). Like Twitter, you will also have very well meaning people who just don't think before they say something hurtful. Or, a mob of users may gang up on someone because of a innocently meant remark.
That said, I generally find Mastodon to be a more pleasant experience than Twitter. If I'm tired of hearing about election news, I can easily scroll past it because people are content warning it. If I don't have the energy to handle someone else's bad day, I don't click into their content warned post. If I need something good in my life, I go search for #catsofmastodon or #florespondence2. It's not a perfect place but I still enjoy using it.
Additional Reading
Because of the Twitter drama a lot of the smaller Mastodon instances are currently overwhelmed. As a result, quite a few of them have chosen to stop allowing new users or have switched to only allowing new users to join if they have an invite from a current user. However, they often open back up once things calm down again. ↩
If nothing appears when you click, it's possible the server is currently overloaded. Again, this will even out when most people go back to Twitter. ↩