Last night we switched to Alaska time. Because my body does not like changing time, I woke up at 6. I got up and walked two miles around the deck. This time I remembered the binoculars and saw multiple whales! After walking I decided to have breakfast in the formal dining hall. It definitely takes longer than the buffet area but my hunch from yesterday was correct, I prefer the mediated seating and formal ordering versus the buffet free-for-all.
(There are no whales in the picture below.)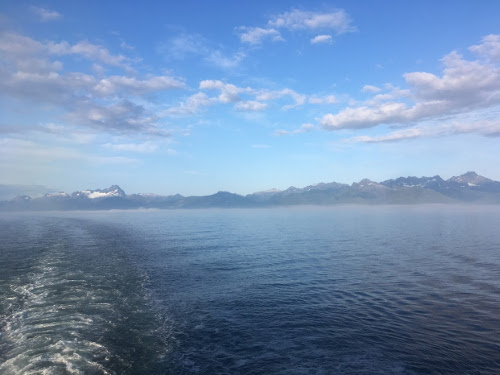 After breakfast I went to the thermal pool. I woke up stiff this morning, probably from last night's ab/core exercises, and I thought the heat might loosen me up a bit. After that I watched another demonstration with America's Test Kitchen. This time it was do-it-yourself takeout meals (Pad Thai and Scallion Pancakes).
I was feeling really sleepy after the presentation so I headed back to my room and considered napping. However, I decided there wasn't really enough time until lunch to nap. I wanted to eat lunch on the early side because we were docking at Juneau around 1:30. Like breakfast, I chose the formal dining room for lunch. Unfortunately, the specialty was fish and chips, not exactly vegetarian friendly. However, I did find one dish that worked. I sat with an interesting mix of people, included one guy who is also from Seattle.
Because it was in the formal dining room, lunch took a long time. By the time I got back to my room there was just enough time to remind myself of what I was wanting to do in Juneau before we docked. It turns out that my room is beautifully positioned to get off the ship quickly. I was in the first group off the ship, even though I hadn't really tried1.
One of the things I really wanted to visit was the Mendenhall Glacier. I had contemplated signing up for one of the cruise excursions. However, the Alaska tour guide indicated that it is really easy to hire a shuttle. I got off the cruise ship and a couple of yards away was about 6 different stands selling various tours and shuttle bus options. I paid $50 for a round trip ride to the Mendenhall Glacier Visitor's Center. The shuttle had drop offs and pickups every 1/2 hr till 7:00 so it provided me with a lot of flexibility.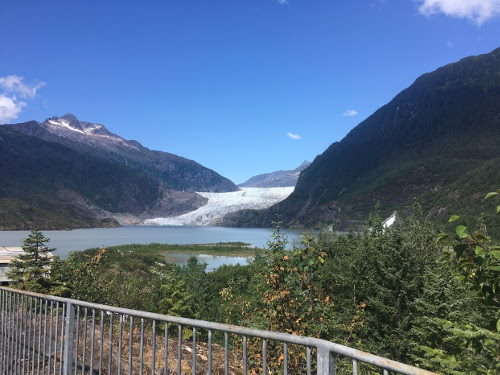 I arrived at the visitor's center and asked the rangers if there was a map of the trails. However, they requested I take a picture with my phone because their promised maps had not arrived on the barge it was suppose to come on. I contemplated the trail options. I knew I wanted to take the Nugget Falls Trail, because that's where you go to get the good glacier pictures. However, it was only a 2 mile flat hike which seemed kind of short. After talking to a ranger, I decided to first go on the East Glacier Trail and then follow-up with the Nugget Falls Trail. The East Glacier Trail was really nice. It was a hike, versus a walk, and not many people were on the trail. It was beautiful, relaxing, and had enough uphill hiking I felt like I got some good exercise.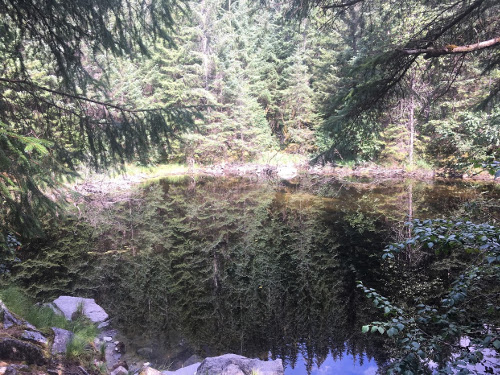 After East Glacier Trail I walked on the Nugget Falls Trail. It was packed. So many people2.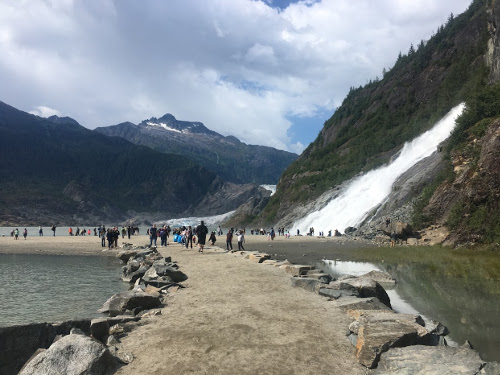 Most of the people were meandering very slowly but spread across the path in ways that made it hard to pass without running into people coming from the opposite direction. Both the glacier and the falls were nice but overall I liked the East Glacier Trail better. I thought the view of the glacier was better farther away but Nugget Falls was nice.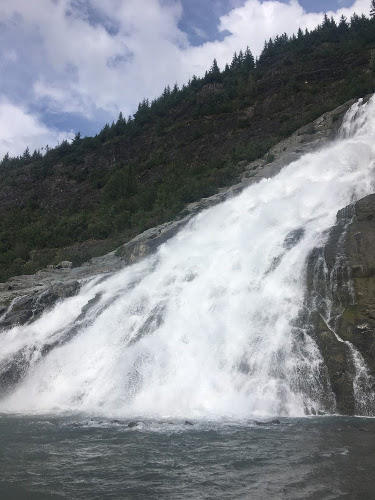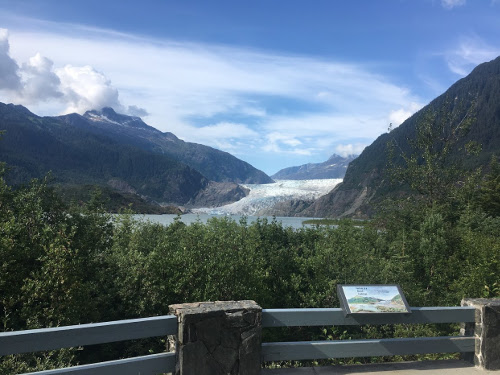 I got done with both hikes just a smidge after 4:30 and waited at the shuttle stop for the 5:00 shuttle to take me back to downtown Juneau. I had a list of other things I wanted to do but realistically was running out of time. I decided I could probably squeeze one more thing in so I went to the Sealaska Heritage Museum. It was very interesting. The museum also has a shop with Southeast Alaskan Native art and gifts. I was excited to see that there was a picture book about Salmon Boy3 that contained the story and illustrations one of the museum exhibits had featured.
By the time I finished with the museum and store it was after 7:00 and I was hungry (I hadn't eaten lunch, only snacks). I decided to return to the ship and eat supper at the buffet. It wasn't as crowded as previous days but still was busier than I preferred. However, fast food was what I needed at the time. After supper I took another dip in the thermal pool. I needed to take a shower to wash off all the sunscreen and bug spray anyway so I figured if I needed to get wet anyway I should relax in the pool some more and hopefully prevent any new aches from appearing tomorrow.