Today we visited Hubbard Glacier but we didn't visit any ports. I had a manicure appointment at 9:00am today which messed up the routine I've started following. I figured I'd just skip my deck walk and go straight to the dining room for breakfast. However, I belatedly realized the dining room wasn't open till 8:00 and expecting to be done in one hour would probably be overly optimistic. So instead I braved the buffet and then used the extra time to walk 1 2/3 miles around the deck.
The manicure was ok. In retrospect I wish I had stuck just to the pedicure which had the very noticeable benefit of getting the calluses off my feet. The manicure wasn't quite as useful. I had intended to go to another America's Test Kitchen demo but was sleepy and so went and napped instead.
After waking up I started reading The Poppy War, by R.F. Kuang, and read until it was time for lunch. I went to the dining hall for lunch and met more nice people. I was facing the window and watched us pass chunks of ice all during lunch. After lunch I went back to reading my book until we got close to the glacier.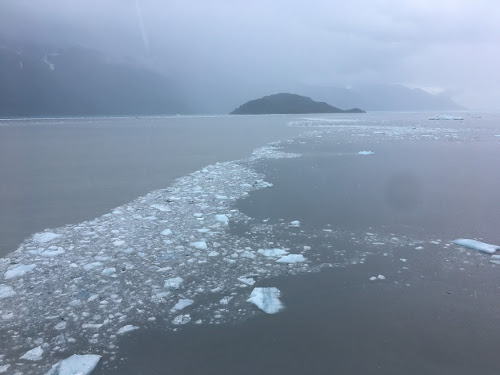 There was an excursion to get really close to the glacier. However, I was impressed by how close the cruise ship itself got. I was surprised by how loud the glacier calving was. It was raining so it was hard to get good pictures. I stayed outside and gawked a little bit and then went back inside. I grabbed my book and found a comfortable seat that had both a view of the glacier and was by speakers that were playing dramatic classical music.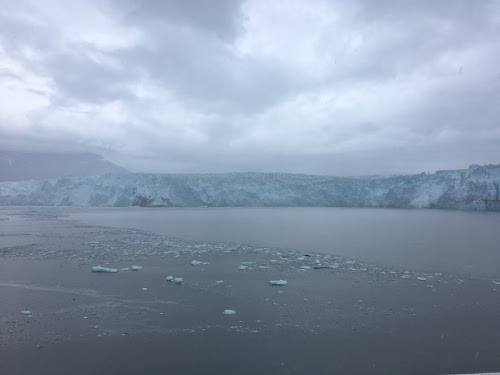 I continued reading until supper and went to the dining room again and met more people. So far, I haven't sat with any of the same people more than once. We had a nice long conversation about many topics and I also got a chance to do some education about library budgets and electronic resources.
After supper I walked two miles on the deck and then ended by soaking in the thermal pool. Tomorrow we're suppose to arrive in Sitka at 8:00am so I don't want to stay up too late.
Overall, this was a really nice relaxing day.